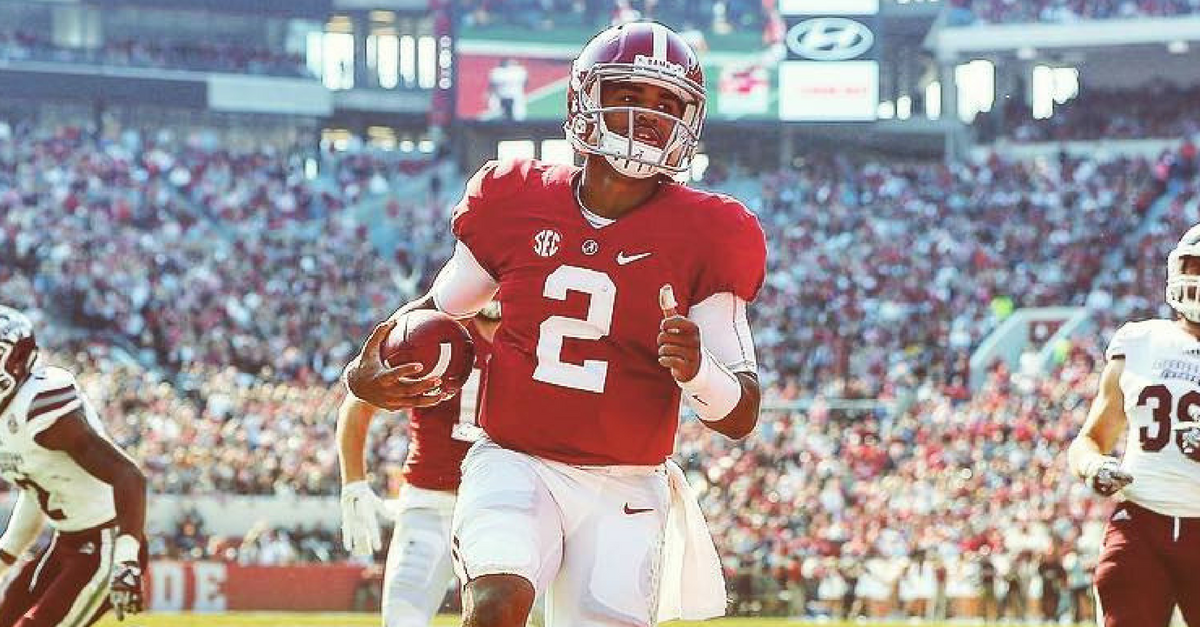 Instagram: @thefuture_____2
Instagram: @thefuture_____2
At SEC Media Days, Nick Saban publicly stated that the starting quarterback position for the Alabama Crimson Tide is an open competition. Saban has two quarterbacks that could play for any program in the country, but one is going to be left out in the cold.
Sophomore southpaw Tua Tagovailoa is getting the most buzz after coming in and winning the National Championship last season, but it's junior Jalen Hurts who, despite all the chatter going on around Tuscaloosa, is quietly making the case that it's his team once again in 2018.
For the first time since May 29, Hurts posted a highlight video of his first two season as the Alabama quarterback. Accompanying the video is just one short line and one "keep quiet" emoji.
Talk is all that we've gotten, as Alabama and head coach Nick Saban, in classic fashion, play everything close to the cuff.
In two season as the Crimson Tide starter, Hurts has compiled 4,861 passing yards, 1,809 rushing yards, is responsible for 61 total touchdowns, and only threw one interception in 2017. He was named the 2016 SEC Offensive Player of the Year leading Alabama to the College Football Playoff title game, ultimately losing to Clemson 35-31.
Tua Tagovailoa completed 14 of 24 passes for 166 yards and three touchdown passes to help Alabama beat Georgia in overtime of the CFP national title game. As a true freshman, it would be the only legitimate experience Tua needed to prove his worth.
He hasn't even been named the starter in 2018, and Tagovailoa currently has the third best odds to win the Heisman Trophy.
Hurts isn't the only one talking. Tagovailoa is getting involved in the action, too.
For Hurts, anything short of a starting job could spell the end of his Alabama career. In April, Hurt's dad said that if his son is not the Crimson Tide starter, he would transfer from the program.
There's a lot of talking going on in Tuscaloosa, and Jalen Hurts, whether a emoji tells the story or not, is getting involved in the chatter. As we near the start of training camps, both Hurts and Tagovailoa have the tools to take Alabama football on another run at a CFP National Championship.
Nick Saban will land on one or the other as the team's starter, but don't be surprised to see both in the mix for the season opener and beyond.
This quarterback competition is going to be fun.