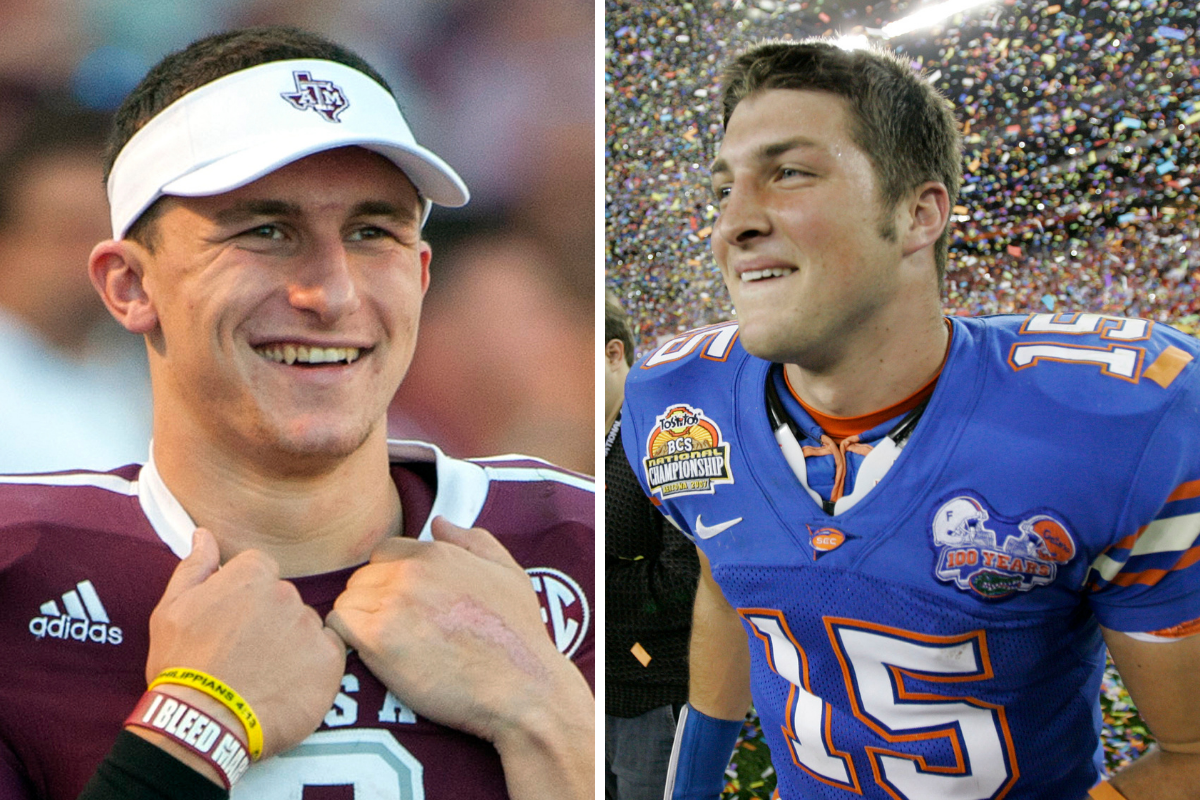 AP Photo/Dave Einsel, File (left), AP Photo/Matt York, File (right)
The year 2019 might as well have been dubbed "The Year of the Quarterback" in the SEC. With Kelly Bryant taking over at Missouri, Bo Nix debuting with Alabama, Kellen Mond returning to Texas A&M, Tua Tagovailoa's redemption with Alabama, Jake Fromm back at Georgia, Kyle Trask's rise with Florida, and Joe Burrow's iconic season at LSU, someone had to get snubbed from the All-SEC teams by season's end.
With all this quarterback talent taking control of college football in the Southeastern Conference, it got us thinking: who were the greatest quarterbacks to ever play in the SEC?
There are a few factors that went into these selections. Balance between leading winning programs and broad skill sets, from slinging the rock to running ability, helped create a basic outline for who was most deserving. Quarterbacks do more than throw the ball — they have to lead.
Disagree? Good. Let us know who we missed, why they deserve to make the list, and what you'd change about the order.
Without further ado, here is our list of the 20 greatest SEC quarterbacks.
Best SEC Quarterbacks Ever
20. Jared Lorenzen, Kentucky
Nicknamed "Hefty Lefty," the southpaw from Covington, Kentucky leads this list for good reason. The four-year starter put the Wildcats on his back and still owns SEC records for passing attempts in a season (559) and career (1,514). Lorenzen still ranks top-10 in conference history for total offense, passing yards, and passing touchdowns.
Sadly, the Super Bowl XLII champion with the New York Giants died of heart and kidney problems at age 38.
19. Drew Lock, Missouri
Before taking the NFL by storm as a rookie with the Denver Broncos, Lock tore up the SEC. The Missouri Tiger broke the single season for touchdown passes (44) and posted the fourth-highest passing yardage total (3,964) as a junior. The two-time All-SEC selection finished his career with 109 total touchdowns and 12,193 passing yards, which ranks fifth and second all-time, respectively.
If Mizzou had more success in Barry Odom's first few seasons, Lock could've found his way higher on this list.
18. Eric Zeier, Georgia
The Marietta, Georgia native stayed home to lead the Dawgs from 1991-94 and did not disappoint. Zeier left college football as the SEC's career leader in passing yards (11,153), which still ranks sixth. Zeier would finish top-10 in the Heisman Trophy voting in both 1993 and 1994, and was named first-team All-American as a senior. He still holds the all-time SEC mark for passing yards in a single game (544).
His UGA teams weren't as successful, however, winning only 11 combined games in his final two seasons.
17. Eli Manning, Ole Miss
The "Kid Brother" set or tied 45 passing records during his Ole Miss career. In 2003, Manning was named First-Team All-American and was awarded the Maxwell Trophy as the nation's top player. He also finished third in the Heisman voting behind winner Jason White and Larry Fitzgerald. Manning led Ole Miss to its first 10-win season at the program since the 1971 team led by coach Billy Kinard. It was an SEC career full of numbers, but not of many marquee wins.
16. David Greene, Georgia
The Bulldogs quarterback ended his career as the SEC's winningest quarterback (42 wins) and finished his career as the SEC's all-time leader in both passing yards (11,528) and total offense. Greene's senior season in 2004 was his most efficient, throwing 20 touchdown passes against only four interceptions, but 2002 was Georgia's best as a team, when the Bulldogs went 13-1 and won the SEC Championship.
15. Joe Namath, Alabama
The numbers don't show it, but Broadway Joe was dubbed "the greatest athlete I ever coached" by iconic Alabama head coach Bear Bryant. Namath finished his career with a 29-4 record as a starter and led the Crimson Tide to an undefeated record and national championship in 1964. A knee injury limited him to only 756 passing yards with four TD passes and five interceptions, plus six scores on the ground, but Namath still finished 11th in the Heisman Trophy voting as a senior.
Somehow, he is still not in the College Football Hall of Fame.
14. Tommy Hodson, LSU
A four-time first-team All-SEC quarterback is a no brainer on this list. Hodson led LSU to two SEC Championships in 1986 as a freshman and again in 1988 as a junior. Way ahead of his time, Hodson became the first quarterback to throw for more than 60 career TDs, and he was the third QB in NCAA history to finish all four seasons with over 2,000 passing yards. Hodson's Tigers never reached the pinnacle of the NCAA, but he still finished with one of the conference's best careers.
Even with today's pass-happy style of football, Hodson's 69 career touchdown passes was tied for 18th in SEC history before Tagovailoa and Burrow pushed him down the list.
13. Steve Spurrier, Florida
Spurrier is known for his coaching career, but as the Gators' leader in the 1960s, Spurrier had one of the best careers for an SEC quarterback ever at that time. In three seasons, Spurrier rewrote the Florida Gators career passing records, as well as Southeastern Conference records for passing and total offense — His 5,290 career yards of total offense still rank 10th in UF history. In 1966, Spurrier was named the SEC Player of the Year and the Heisman Trophy winner. He is still the only player on the losing team to be named MVP of the Sugar Bowl.
12. Pat Sullivan, Auburn
Sullivan broke numerous passing records at Auburn and the SEC during his three seasons starting for legendary Auburn coach Ralph Jordan. In 1970, he led the nation in total touchdowns, which set the table for his Heisman Trophy winning season in 1971. Sullivan's 26-7 record, as well as finishing every season ranked in the top-20 nationally, easily lands Sullivan on this list as an Auburn's gold standard.
11. Tim Couch, Kentucky
Couch put up two of the greatest seasons not only in SEC history, but all-time in major college football. Starring on a Wildcats team that went 12-11 over two seasons, Couch was anything but mediocre. In his first season as the starter in 1997, Couch led the SEC in every single passing category. He was even better in 1998. The two-time Heisman finalist broke his own SEC single-season records for completions, completion percentage, and passing yards.
Team performance didn't help Couch, but his legacy is cemented throughout the conference's record book.
10. A.J. McCarron, Alabama
Call A.J. McCarron a game manager in Nick Saban's system if you want, but he's the winningest quarterback in SEC history. McCarron has three national championships on his resume, including being the first quarterback to win back-to-back titles in 2012 and 2013. The Crimson Tide signal caller was named First-Team All-American his senior season and finished second in Heisman Trophy voting. McCarron's ridiculous 77-to-15 touchdown to interception ratio is mind-blowing, he's the fourth-rated passer in the history of the SEC, and once went 291 attempts without an interception.
McCarron didn't have to carry his team, but he was the quarterback an Alabama Crimson Tide dynasty at its peak. That's special.
9. Chris Leak, Florida
Leak set the table for another quarterback ranked higher on this list, but he made his own mark on the SEC. Leak led Florida to a 13-1 record as a senior in 2006, the program's first SEC Championship since 2000, and a BCS National Championship — Leak was named the title game's Offensive MVP. During his career, Leak broke Florida records for completions (895), attempts (1,458), and passing yards (11,213), all of which still rank top four in conference history.
Leak gets overshadowed for his successor, but he deserves a place among SEC royalty.
8. Aaron Murray, Georgia
The SEC's best statistical passer would be ranked higher if it weren't for his teams going 1-3 in bowl games and amassing a career record of 36-18. Murray was a model of consistency, finishing all four of his seasons with over 3,000 passing yards. Murray is the SEC career leader in completions, attempts, passing yards, and passing touchdowns, making him the fifth rated passer in conference history.
They say numbers never lie. In this case, however, Murray's play only earned him a Capital One Bowl MVP award in 2013 and one second-team All-SEC honor from the Associated Press.
7. Tua Tagovailoa, Alabama
No quarterback made a better debut on the national stage than Tagovailoa in the 2018 College Football Playoff National Championship Game, but that was only the start of his ascension. In his sophomore season, Tagovailoa finished second in Heisman voting despite winning both the Maxwell and Walter Camp Awards, and was a Consensus All-American. The next year, Tagovailoa was on pace to break his own school records before suffering a season-ending hip injury. Had late-season injuries not bogged him down, Tagovailoa could've easily won multiple national championships and a Heisman Trophy.
Despite appearing in just 32 games, Tua's 87 passing touchdowns rank fifth in SEC history, and his 199.4 passer rating is by far the conference record.
6. Johnny Manziel, Texas A&M
Johnny Manziel became the first freshman to win the Heisman Trophy in 2012 in grand style. His 5,116 total yards and 47 total touchdowns is one of the greatest seasons in NCAA history. The next year, Manziel threw for 4,114 yards, the third-most in a single season in SEC history, and completed 69.9 percent of his passes. In back-to-back years, Manziel was responsible for 47 and 46 touchdowns for the Aggies; both of those numbers are two of the five best seasons in SEC history.
Manziel left college early, but he left his mark as one of the most electrifying players to ever play in the SEC.
5. Cam Newton, Auburn
It only took one season for Cam Newton to make his mark. Newton's 2010 season at Auburn is considered one of the greatest quarterback seasons in NCAA history, not just in the SEC. Newton's 182.0 passer rating in 2010 was the best single-season mark in SEC history at the time. His 51 total touchdowns were the second most in conference history, and he won the 2010 Heisman Trophy in a landslide. Not only that, Newton took Auburn to their first national championship since 1957.
The 2010 Consensus All-American is still one of the greatest dual-threat quarterbacks to ever step foot on a football field.
4. Joe Burrow, LSU
When he transferred from Ohio State, no one put much stock into the 6-foot-4 signal caller. But after he hoisted the 2019 Heisman Trophy in the biggest margin ever of victory ever, no one will ever forget Joe Burreaux.
The LSU quarterback shattered SEC records for passing yards and passing touchdowns during the regular season as a senior, becoming the only QB in conference history to throw for at least 4,000 yards and 40 touchdowns. He wasn't done, though, as he eclipsed 5,000 yards and 50 touchdowns heading into the College Football Playoff title game against defending champion Clemson. There's never been a season like Burrow in conference history, and there may never be one like it again.
3. Danny Wuerffel, Florida
Danny Wuerffel's body of work speaks for itself. In 1995 and 1996, the Gators quarterback led the nation in total touchdowns and led the SEC in passing yards and total offense. Wuerffel was a two-time Davey O'Brien Award winner, named first-team All-SEC twice, took home SEC Player of the Year twice, and won the Maxwell Award and Heisman Trophy in 1996. The Gators were named 1996 National Champions with 12-1 record and the nation's best player at helm in Gainesville.
Oh, he also won the SEC Championship four years in a row.
2. Peyton Manning, Tennessee
The Sheriff was a legendary NFL quarterback. In the SEC, he was a notch down, at incredible. His 89 passing touchdowns are third most all-time in SEC history. The owner of every Tennessee passing record from 300-yard games (18) to career wins (39), Manning finished runner-up to Charles Woodson for the 1997 Heisman Trophy as a senior, as well as finishing voting eighth as a sophomore and third as junior. Manning went on to be the first-overall pick in the 1998 NFL Draft, and the rest is history.
No one did it with the command and skill that Manning did. There may never be a better player to walk on the field for the University of Tennessee.
1. Tim Tebow, Florida
Were you expecting someone else? The Chosen One is the greatest quarterback in SEC history. The three-time first-team All-SEC selection led Florida to the a 13-1 record and the national championship in 2008. His 2007 Heisman Trophy season was the best in SEC history for a quarterback — Tebow's 55 total touchdowns were the SEC record, and his 23 rushing touchdowns were also the record. (It's since been broken by Derrick Henry.) Tim Tebow left as the highest-rated passer in SEC history.
Heart. Desire. Help from above. Tim Tebow did all the right things, and he deserves to be remembered as the best quarterback in SEC history, and frankly, to ever play college football.