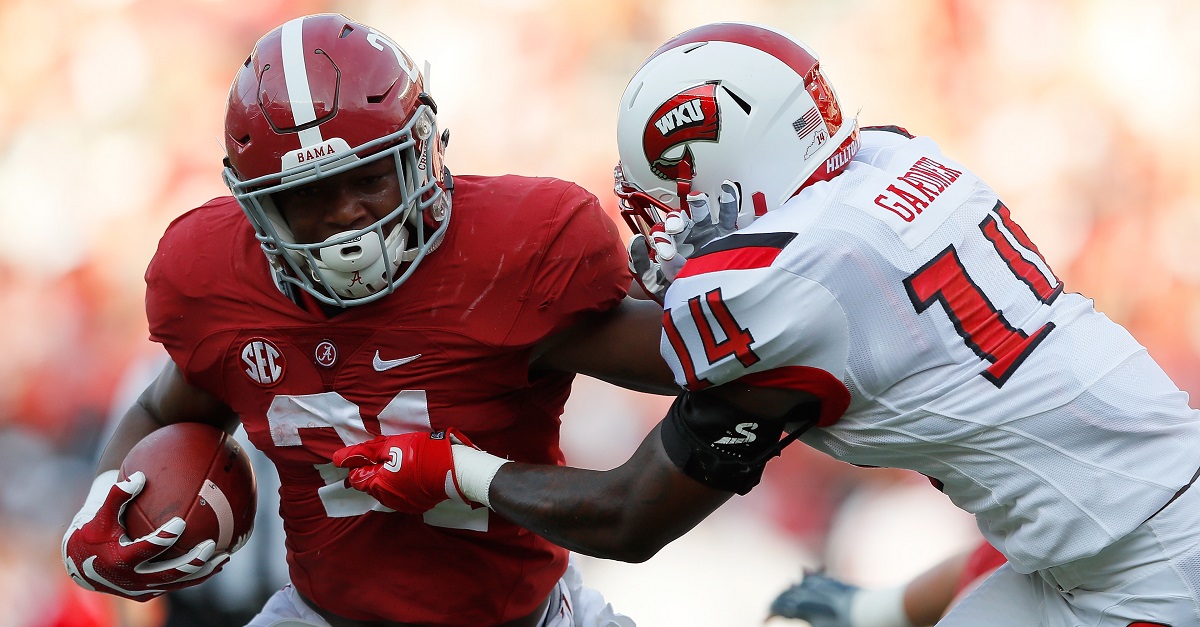 Kevin C. Cox/Getty Images
TUSCALOOSA, AL - SEPTEMBER 10: B.J. Emmons #21 of the Alabama Crimson Tide stiff arms Juwan Gardner #14 of the Western Kentucky Hilltoppers at Bryant-Denny Stadium on September 10, 2016 in Tuscaloosa, Alabama. (Photo by Kevin C. Cox/Getty Images)
Former Alabama running back B.J. Emmons left the school back in 2016 and took a season to play at a JUCO institution. Now, he's back in the FBS ranks as he has officially committed to play for Lane Kiffin a second time, just at FAU.
Emmons and Kiffin overlapped one year at Alabama and it looks like that was enough of an impression to make the young man want to join up again. Emmons was the No. 2 running back in the 2016 recruiting class according to the 247Sports Composite rankings.
The 6-foot, 230-pound back should give Lane Kiffin another nice weapon to work with in Boca Raton. As a true freshman, Emmons ran for 173 yards and a touchdown. However, he had foot issues and required surgery, which is one of the reasons he never really broke into the starting lineup.
[h/t College Football Talk]