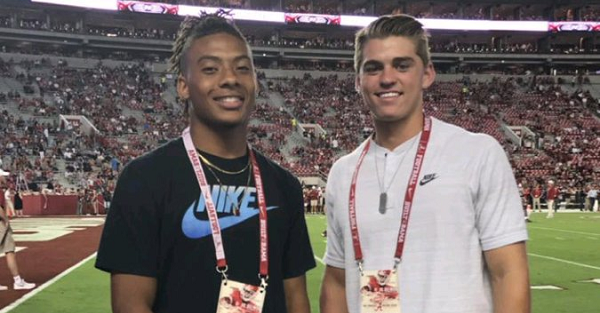 @C_Will4/Twitter
@C_Will4/Twitter
Four-star cornerback Christian Williams talked a couple weeks ago about the schools talking to him the most right now in Alabama, Auburn and LSU. It would appear now that he's giving one school a particularly high chance of landing him though. When asked about Alabama's chances he said, "They have a really high chance of getting me."
He told 247Sports that he went on a visit there recently and loved the work ethic even in the spring.
"We got to see how a couple players, even though they just won a national championship, they were still hungry and grinding for more," Williams said. "We walked into the facility and there were about 30 or 40 guys doing one-on-ones and doing drills and everything trying to get better. I really liked that."
He also gave a soft timetable on a potential commitment.
"I think after a few more visits and once I compare everything I possibly will make a commitment during spring practice or before summer," he said. "I'm still not sure yet, though."
The 6-foot-1, 177-pound Daphne native is ranked as the No. 10 player at his position and No. 5 recruit in the state according to the 247Sports Composite rankings. He's also got offers from Arizona, Michigan, South Carolina and Tennessee among others.
Here are some of his highlights: