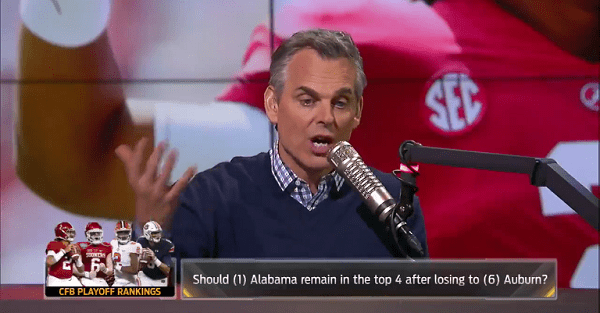 @TheHerd/Twitter
@TheHerd/Twitter
After Alabama's loss to Auburn in the Iron Bowl, the Crimson Tide no longer control their own fate.
The Tide will need help to reach the College Football Playoffs, and FOX Sports radio host Colin Cowherd said there's only one person to blame if Alabama doesn't make the playoffs for the fourth straight season: Nick Saban.
Cowherd said the way Saban schedules hurts Alabama if they end up losing a game and not winning the SEC. He said they'll be on the outside looking in unless they catch a lot of breaks on Championship Saturday.
Related: Does Alabama deserve a spot in the College Football Playoffs?
"First of all, I don't feel pity for Nick Saban," Cowherd said. "I know Nick, I like Nick. He's a great coach. He's an all-timer. But they could have controlled the situation. Nick has been manipulating college football schedules at Alabama for years.

"They play Mercer twice a year. They have a bye right before LSU. They always have a weakling cupcake right before Auburn. USC didn't have a bye this year. Their out-of-conference was at Notre Dame and Texas. Nick schedules out-of-conference games only on neutral fields. They're doing it again next year. They face Louisville in Orlando. They faced Florida State in Dallas. He won't go on the road."
Cowherd said Alabama struggled during three of its true road games this season at Texas A&M, Mississippi State, and during the loss to Auburn.
"So Nick is manipulating the system," Cowherd continued. "Georgia got on the phone and dialed up Notre Dame and went there. Total respect. Auburn got on the phone, went to Clemson. Win or lose, you had the guts to do it. Nick has been manipulating schedules. He knows it, his people know it, and nobody in the media calls him out for it.
"He won't go on the road for big out-of-conference games. There's always a bye before LSU. There's a cupcake before Auburn. And all he does is whine when he occasionally every fourth year gets a tough road schedule in the SEC."
To be fair to Saban, when Alabama scheduled the game in Atlanta against Florida State, the Seminoles were projected to be one of the best teams in the country. FSU is only 5-6, and that win doesn't look as good as it could have.
But not scheduling home-and-homes out of SEC play could come back to haunt the Tide. Alabama usually plays a tough team in its non-conference schedule, but it's almost always on a neutral field. Now, the Tide don't have any quality wins except for LSU — and that may be a stretch after the Troy loss — and it could hurt them when comparing their resume to Ohio State's or another team fighting to get into the playoffs.
So, Cowherd's point isn't invalid, but it's also unfair to criticize Alabama's schedule when they expected Florida State to be a formidable opponent.
(h/t The Spun)