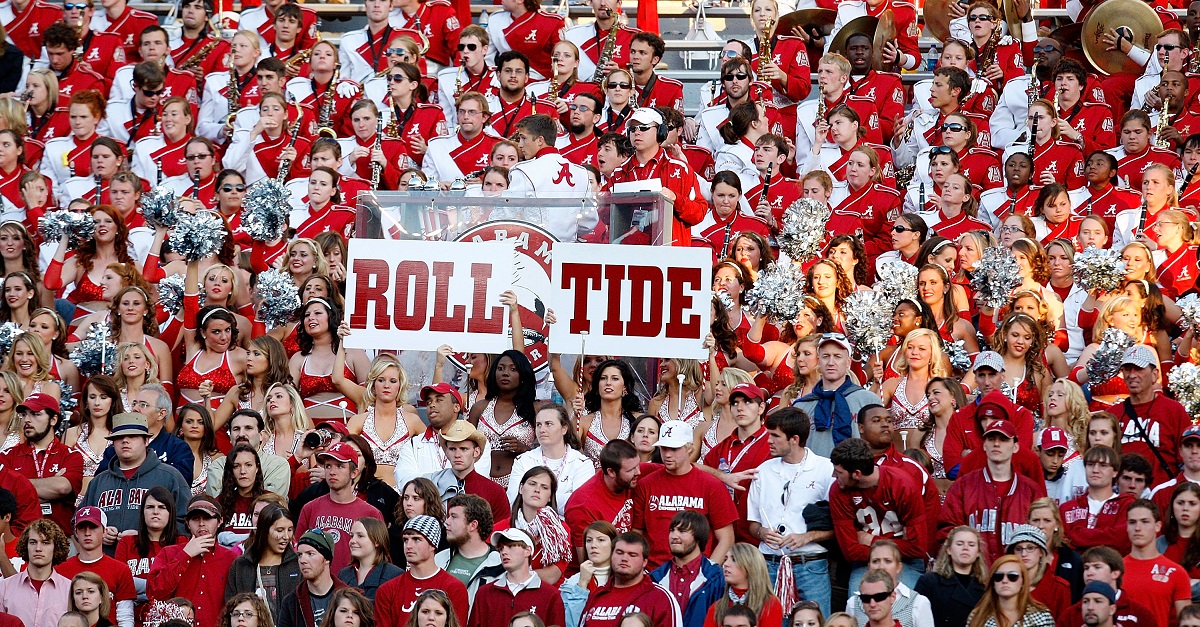 Kevin C. Cox/Getty Images
TUSCALOOSA, AL - OCTOBER 24: Fans of the Alabama Crimson Tide cheer against the Tennessee Volunteers at Bryant-Denny Stadium on October 24, 2009 in Tuscaloosa, Alabama. (Photo by Kevin C. Cox/Getty Images)
Fresno State is scheduled to visit Alabama for a college football game on Sept. 9, but the game was in jeopardy after a travel ban from the state of California.
California lawmakers enacted a travel ban that prohibits state-funded travel to eight states, including Alabama, Mississippi, North Carolina, Tennessee, Kentucky, Kansas, South Dakota and Texas. California is restricting state-funded travel to those states because those eight states have enacted laws that they say are discriminatory against gay and transgender people.
Some states, such as North Carolina, were on the banned list due to the "bathroom bill," but Alabama was added to the list for a different reason. The state of Alabama recently passed a law that gave adoption agencies the option of not placing children with same-sex couples for faith-based reasons.
Related: The Dallas Cowboys may lose out on hosting the NFL Draft for a reason sure to upset fans
With Fresno State scheduled to visit Alabama this fall, there was concern about the game being played due to the new California funding restriction. However, Fresno State confirmed to AL.com that they will be allowed to travel since the game was scheduled in 2015.
There is an exemption in the new California law that states that any contract signed before Jan. 1, 2017 will still be honored, so Fresno State can still make the trip with state funding.
Alabama is paying Fresno State $1.4 million to make the trip to Tuscaloosa. Fresno State doesn't have any other trips planned to a state on the banned list for 2017, but they do have a game scheduled with Texas A&M in 2020 that could be impacted by the new law.
(h/t Saturday Down South)