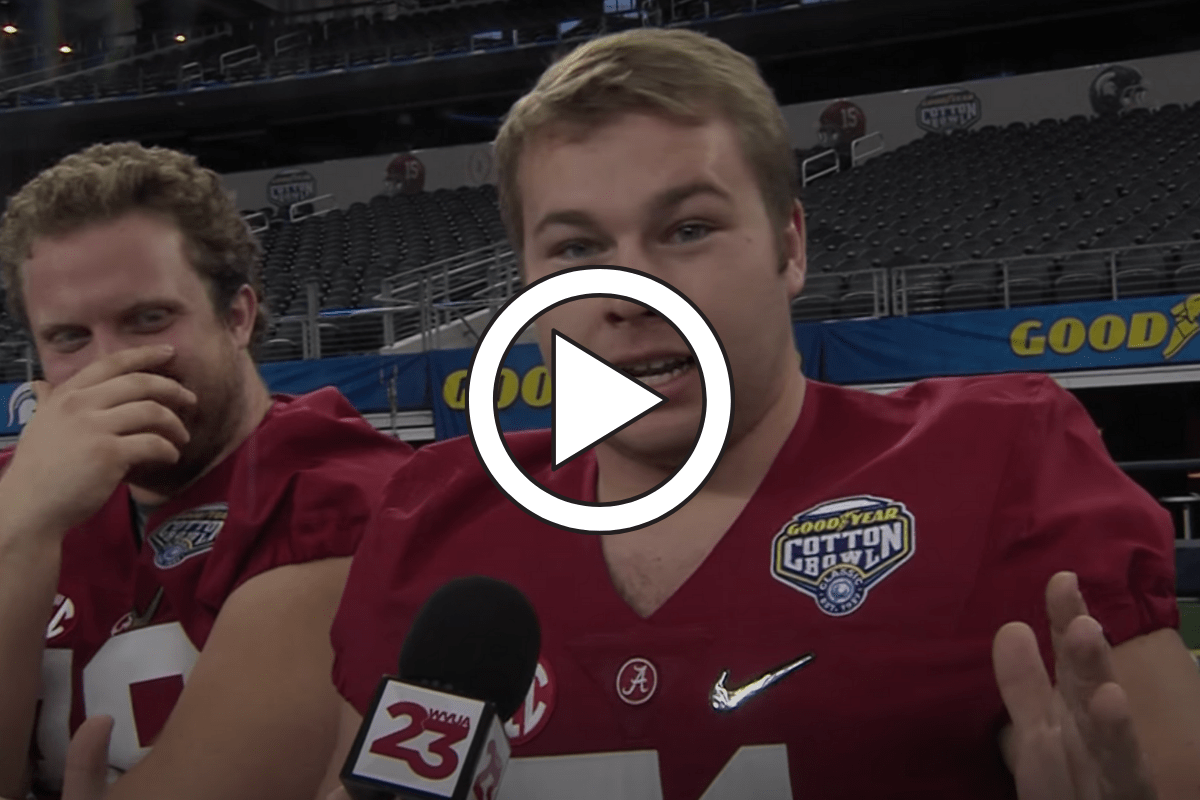 Screenshot from YouTube
There's nothing like a good impression of a college football coach that takes himself too seriously. Joe Burrow and probably the rest of NCAA fans have done one of Ed Orgeron. Of course, he isn't the only SEC head coach subject to funny impersonations.
Many have done their best to imitate Alabama head coach Nick Saban. Remember Crimson Tide wide receiver Rob Ezell's hilarious version in the locker room that even Saban smirked at? Former offensive coordinator Lane Kiffin went on a radio show and sounded just like the main man in Tuscaloosa.
Someone that definitely belong on the Mount Rushmore of Nick Saban impressions is former defensive lineman Jake Long.
Alabama Player's Hilarious Saban Impression
RELATED: Lane Kiffin?s Impression of Nick Saban Cracked Everyone Up
Long was a junior in 2015 when his team played in the Cotton Bowl against Michigan State. Alabama blew out the Spartans, 38-0, to advance to the College Football Playoff National Championship Game against Clemson.
However, the most exciting thing about the Cotton Bowl might have been Jake Long's impression of his head coach at media day before the game.
Sitting next to fellow d-lineman Stephen Hodge, Long ripped off a hilarious Nick Saban impression that Hodge couldn't stop laughing at throughout the bit.
"You know, if it was up to y'all we wouldn't be even in this bowl today. Ya'll had us buried. We were gone and dead. It was over. Ya'll said, you know what, the dynasty it's all gone," Long begins in a YouTube video posted by WVUA 23.

He continues.

"We're gonna dominate and kick their ass in everything that we do!"
Phew, that was a lot. I thought he was a little more amped up than I've seen Saban, but it's not like he hasn't exploded on coaches, players and reporters before.
What do Alabama Crimson Tide fans think? I'd say Ezell has the edge here, but Long isn't far behind.