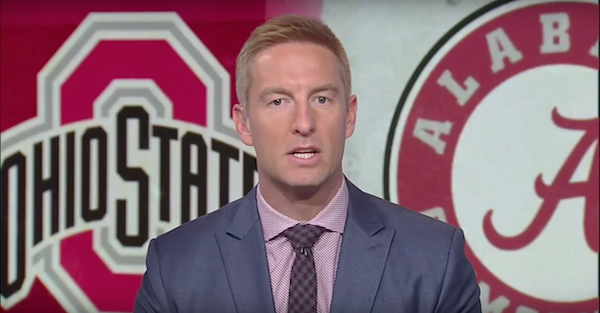 First Things First/YouTube
There are still four weeks until the College Football playoff semifinals, which gives analysts and fans ample time to debate whether the correct four teams actually made it into the playoffs.
FS1 college football analyst Joel Klatt didn't agree with the committee's decision to include over Alabama over Ohio State, and he said on "First Things First" that the committee has proven to be dishonest, inaccurate and unreliable.
Related: Danny Kanell lashes out at College Football Playoff committee, rants on Alabama's inclusion
"They are dishonest, inaccurate, and completely unreliable, this committee is," Klatt said. "And you can break those all the way down. Kirby Hocutt lied to us the entire year. Last week, he told us Ohio State and Alabama, there was very little– razor thin margin between the two, and now all of a sudden it's unequivocally that without playing a game Alabama's better than Ohio State, after Ohio State beat Wisconsin.

"It's crazy the inconsistencies that we're seeing from this committee. Which is why I'm of the belief that the long term health of the playoff is at risk, because right now there's zero trustworthiness within the committee and the playoff structure completely."
Klatt did say that neither Ohio State nor Alabama have great resumes, and he said it would be a mistake for the playoff to expand to eight teams considering how they both have average resumes.
The committee believes Alabama is better than Ohio State. Their resumes are similar. But the committee thinks Alabama is better. That's pretty much all there is to it, and Klatt takes it a little too far by calling them dishonest and inaccurate.
The result from all this will probably be an eight-team playoff where champions from the Power 5 conferences automatically make it into the field and there are three wild card teams. Until then, the fates of borderline teams will be left to the 13-person committee.