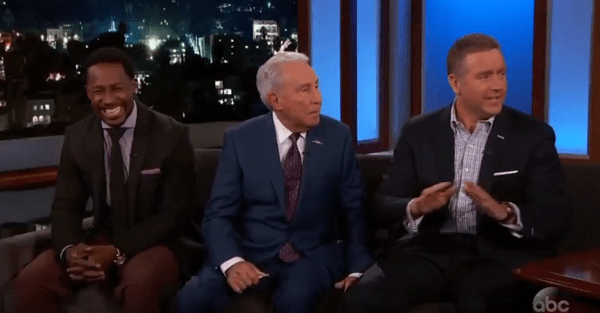 netStuff/YouTube
netStuff/YouTube
The National Semifinal games are almost a month away, but that hasn't stopped people from making their predictions for each game. The guys from ESPN's College GameDay were on Jimmy Kimmel's show and they all shared some stories, but also made their predictions for who wins the semifinal games.
"I think Oklahoma is probably the team to beat going in just because of the offense," Herbstreit said.
"I'd go with Alabama and Georgia (in the final)," Corso said. He went off the Vegas odds to make his decision with Alabama being given the best odds to win the title yet again under coach Nick Saban. It's a bit of a curious prediction from Herbstreit because he did explain how Georgia might be able to slow down and possibly beat Oklahoma not two weeks ago.
Both games are being played on Jan. 1 with Clemson facing off against Alabama in New Orleans in the Sugar Bowl while Georgia faces Oklahoma in the Rose Bowl.
Here is the video in its entirety if you want to see it:
https://www.youtube.com/watch?time_continue=1&v=UuOP4EvGN0o
[h/t 247Sports]