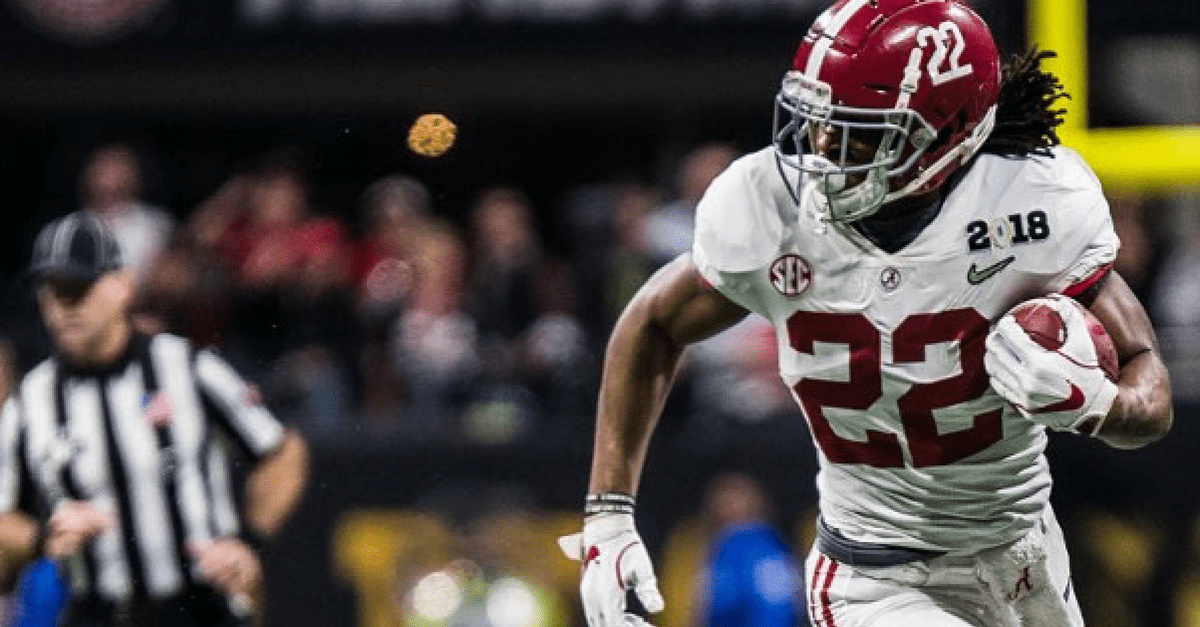 Instagram: @najee_harris
Instagram: @najee_harris
Since 2000, only two non-quarterbacks have won the Heisman trophy — both of those were Alabama Crimson Tide running backs, Mark Ingram and Derrick Henry. In 2018, the strength of this team (aside from almost every other position on the field) is, once again, at running back.
Alabama's narrative the entire summer has surrounded the quarterback battle, which at least one person claims is already over. But it's at running back where this team makes its money, and one of the Crimson Tide's best players will be sidelined until at least the start of the regular season.
Former five-star recruit Najee Harris apparently suffered a foot injury during Saturday's scrimmage, but wasn't listed on the injury report afterwards, nor was he listed on it when the Tide headed back to practice this week.
The running back was seen using a scooter Tuesday, and again was held out of practice on Wednesday.
According to AL.com's Matt Zenitz, Harris is expected to be sidelined the rest of fall camp.
Running back is the position that will lead the Crimson Tide back to another appearance in the College Football Playoff, and having Harris healthy and ready for the season only makes the Alabama rushing attack that much more dangerous.
Sophomore Najee Harris hails from Antioch, California, where he was the No. 1 recruit in the nation. In high school, Harris tallied 7,948 rushing yards and 94 rushing touchdowns on his way to being named a USA Today All-American twice.
As a freshman last season, Harris was relatively quiet, rushing for 370 yards and three touchdowns playing behind incumbent starter Damien Harris and, the departed, Bo Scarbrough.
Senior Damien Harris has rushed for more than 1,000 yards in back-to-back seasons, and will be the starter again this season.
Losing Najee Harris might whittle down the depth chart slightly, but it won't be anything that head coach Nick Saban has to be worried about.
https://www.instagram.com/p/BiH4LRNH9za/?hl=en&taken-by=najee_harris
Losing Najee Harris for the summer is nothing to the Crimson Tide, who have seven other running backs on the roster. Freshman running back Jerome Ford, who was the No. 6 all-purpose back coming out of high school, might not sniff the field, and he could start on most other Division I teams.
If you think anyone in Tuscaloosa is worried about a "lower leg injury", you'd be sadly mistaken.