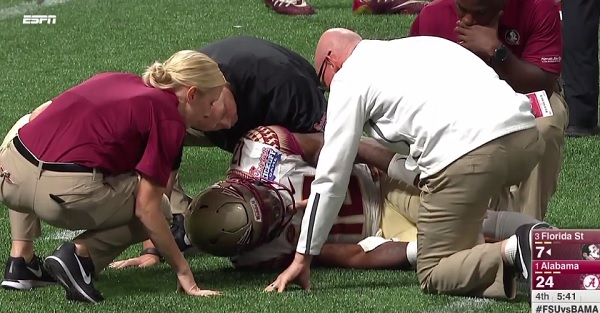 Clippit/Screenshot
Florida State quarterback Deondre Francois had to be carted off the field in the fourth quarter of the game against No. 1 Alabama on Saturday, with Francois suffering an injury to his left knee.
Related: Deondre Francois ruled out for the season
The injury came after a hit from Alabama defender Ronnie Harrison, as Harrison hit Francois in the legs in attempt to get the sack on the quarterback.
It looks like Harrison is feeling some remorse about the hit, as he sent out this message to Francois after the injury.
Praying for @_Dirtie12 , Hit was Not Intentional! I hope you have a speedy recovery bra! #BiggerThanAGame #Respect
The hit didn't look malicious, but with Francois going out with what could be a severe injury, it was a classy move for Harrison to send out prayers for the ailing quarterback.
Alabama defeated Florida State by a 24-7 score on Saturday night in Atlanta.