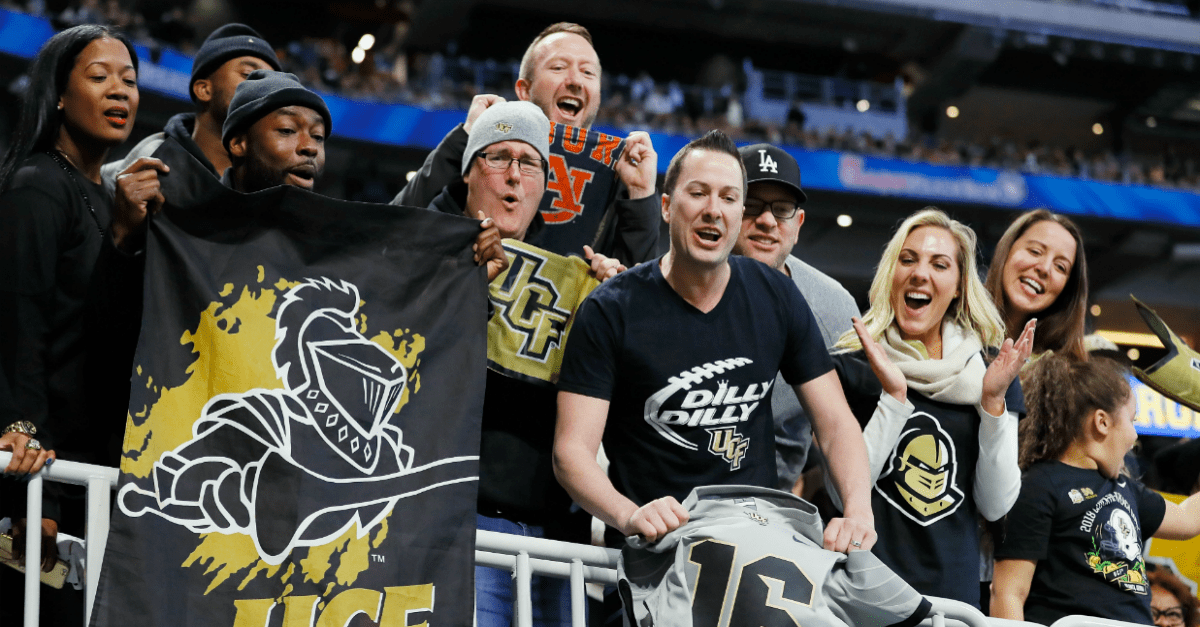 Kevin C. Cox/Getty Images
ATLANTA, GA - JANUARY 01: Fans cheer during the Chick-fil-A Peach Bowl between the Auburn Tigers and the UCF Knights at Mercedes-Benz Stadium on January 1, 2018 in Atlanta, Georgia. (Photo by Kevin C. Cox/Getty Images)
A group of UCF Knights fans have pooled together to issue a challenge directed to the Alabama Crimson Tide. Now that the college football season is over, the fans have started to look ahead with one question for the Tide:
Of course, UCF recently finished off a perfect 13-0 season after defeating Auburn in the Peach Bowl on New Year's Day. The perfect season prompted the school to claim this season's national championship, which Alabama officially won on Monday night after defeating Georgia. After the conclusion of Alabama winning the title, oddsmakers already set the odds on a hypothetical matchup between UCF and Alabama and those odds didn't favor the Knights.
UCF has argued for most of the season that they felt it was a concerted effort by the College Football Playoff Committee to keep the Knights out of the playoff based on the conference that they play in. The Knights finished the regular season ranked 12th in the Playoff and the team felt as though their undefeated season should have warranted a higher ranking.
It'll be interesting to see if this billboard placed right in Tuscaloosa will help set up a potential home-and-home series between the two schools, but it sure wouldn't hurt the chances.