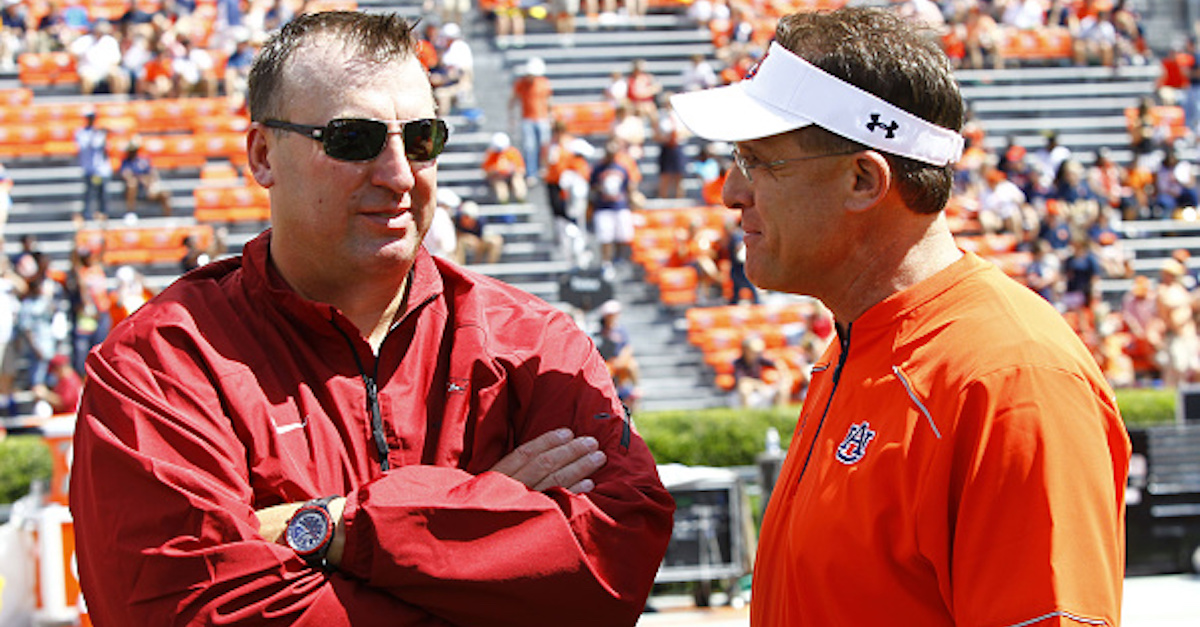 Mike Zarrilli/Getty Images
<> of the Auburn Tigers Arkansas Razorbacks during the game against the Auburn Tigers Arkansas Razorbacks at Jordan Hare Stadium on August 30, 2014 in Auburn, Alabama.
The Auburn Tigers are currently in contention for the SEC Championship and as a result, there's a great chance they'll make the College Football Playoffs and contend for a national championship.
On the other hand, the Arkansas Razorbacks are 4-6 and seventh in the SEC West. They're headed for yet another year of mediocrity (they've hovered around 7-6 for the past few seasons) and they just fired their athletic director, Jeff Long.
Auburn and Arkansas are two programs in two very different places right now, but recent reports out of the world of college football suggest that the Razorbacks are thinking about making a very big move.
That move would be courting Auburn head coach Gus Malzahn, and doing so before going after a new athletic director, according to Dan Wolken of USA Today:
That's huge news, though it does seem a tad bit unrealistic. As mentioned above, Auburn is currently in the running for the SEC title game while Arkansas has been in the doldrums for the past few seasons of the Brett Bielema era. Speaking of, Bielema is still the head coach at Arkansas, though it would be surprising if he still was there heading into next season.
There may be an opening in Arkansas, but that opening is contingent on Malzahn leaving Auburn. For the right money and apparently the ability to weigh in on the new athletic director pick, perhaps that would be interesting to Malzahn — the former Arkansas State head football coach — but is this something that's actually realistic?
Crazier things have happened in college football, but if Auburn goes on to make a College Football Playoff run, that likely makes this scenario a long shot.
(H/T SEC Country)