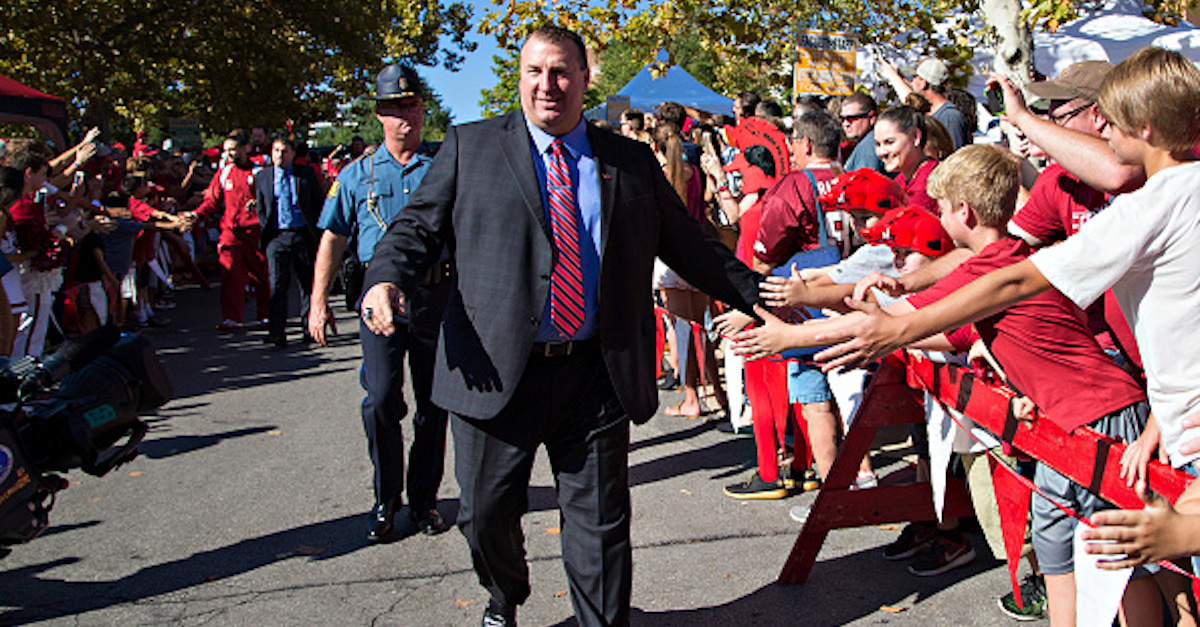 Wesley Hitt/Getty Images
FAYETTEVILLE, AR - SEPTEMBER 17: Head Coach Bret Bielema of the Arkansas Razorbacks greets fans during the walk into the stadium before a game against the Texas State Bobcats at Razorback Stadium on September 17, 2016 in Fayetteville, Arkansas. (Photo by Wesley Hitt/Getty Images)
Bret Bielema was fired from his post as Arkansas football head coach as he was walking off the field after his team's season-ending loss to Missouri, but the free agent coach will be laughing all the way to the bank now that his buyout has reportedly been agreed upon.
Bielema still had three years left on his contract with Arkansas, but the Razorbacks apparently had enough after multiple mediocre seasons in a row.
That's all fine and dandy for Arkansas, though the way the school handled the firing sure could have been better. For Bielema, though all is well that ends well, because Mark Schlabach of ESPN is reporting that the school owes him quite a bit of money for terminating his contract early.
Former Arkansas football coach Bret Bielema will receive an $11.8 million buyout to pay off the final three years of his contract, a source familiar with the situation told ESPN on Friday. Some members of Arkansas' board of trustees tried to argue that it owed Bielema between $5 million and $6 million, and Bielema's attorney wanted a full $15.4 million buyout, but the sides agreed on the negotiated settlement, which should be executed in the next few days, the source told ESPN.