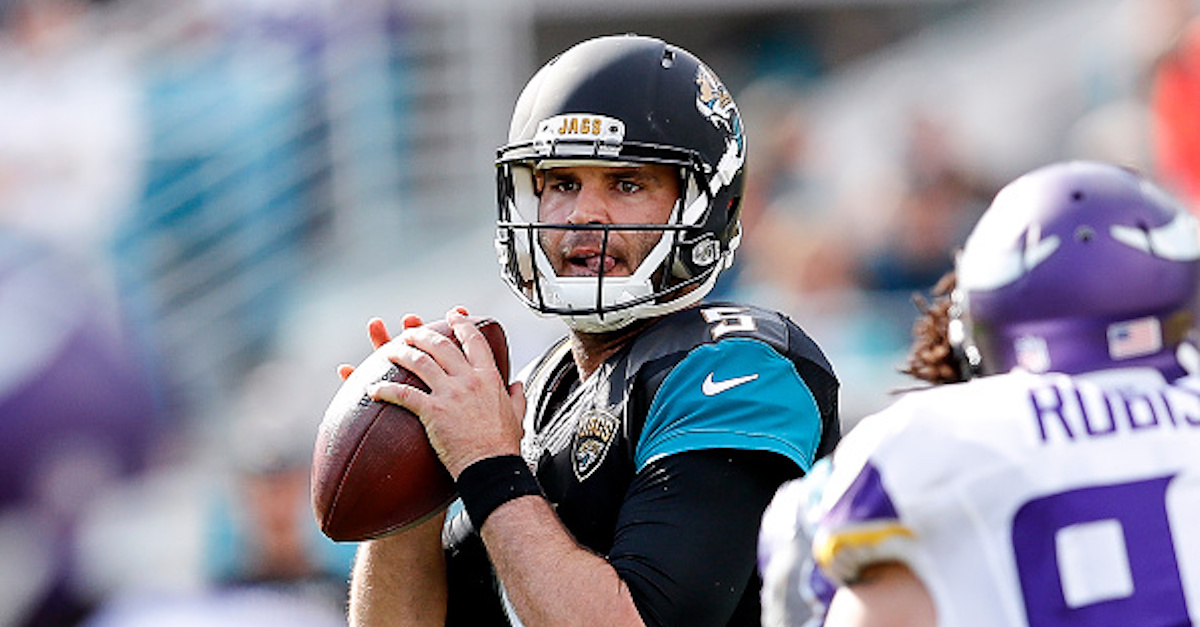 Don Juan Moore/Getty
JACKSONVILLE, FL - DECEMBER 11: Quarterback Blake Bortles #5 of the Jacksonville Jaguars on a pass play during the game against the Minnesota Vikings at EverBank Field on December 11, 2016 in Jacksonville, Florida. The Vikings defeated the Jaguars 25 to 16. (Photo by Don Juan Moore/Getty Images)
If you haven't heard about Blake Bortles and the terrible, horrible, no good, very bad preseason, chances are you haven't been paying any attention to the NFL. To use an overused expression in sports writing, chances are you've been living under a rock.
Bortles, the current starting quarterback for the Jacksonville Jaguars, has been questioned by his coach, berated by his teammates and now his starting position is likely up for grabs. He's been throwing the ball terribly this offseason and one former quarterback recently went as far as to say that he wasn't meant to be a quarterback.
So yeah, it's been a terrible, horrible, no good, very bad preseason for the Jacksonville quarterback, but things could get much worse.
According to Jaguars beat writer Mike Kaye, Jacksonville head coach Doug Maronne is apparently thinking about giving the starting job to Brandon Allen, former Arkansas quarterback turned sixth-round draft pick.
Allen, who's entering his second season in the league, hasn't thrown a single NFL pass and as far as we know, there's nothing to suggest that he's an NFL-ready quarterback. He did throw 7,463 yards and 64 touchdowns in four seasons in the SEC, but since entering the league he's largely been an afterthought, so it's huge news that he may ultimately replace the former No. 3 overall pick from the 2014 NFL Draft.
Former Michigan quarterback Chad Henne is also in the running for the starting gig, and Maronne made it clear after the Jaguars' last game that this is definitely a competition. Here's what he said, per the team's website.
?It?s right up there for grabs, and either person can take it,? he said. ?We?ll make the best decision?again, who is the best person? It?s very simple. Who is the best person to put in that position to lead the offense??
Bortles, Allen or Henne. None of those options have to inspire much confidence in Jaguars fans, but the big story here is that a former 201st overall pick may be replacing a former No. 3 overall pick.
That's not a good look for Jacksonville, and certainly not a good look for Bortles.
(H/T The Spun)