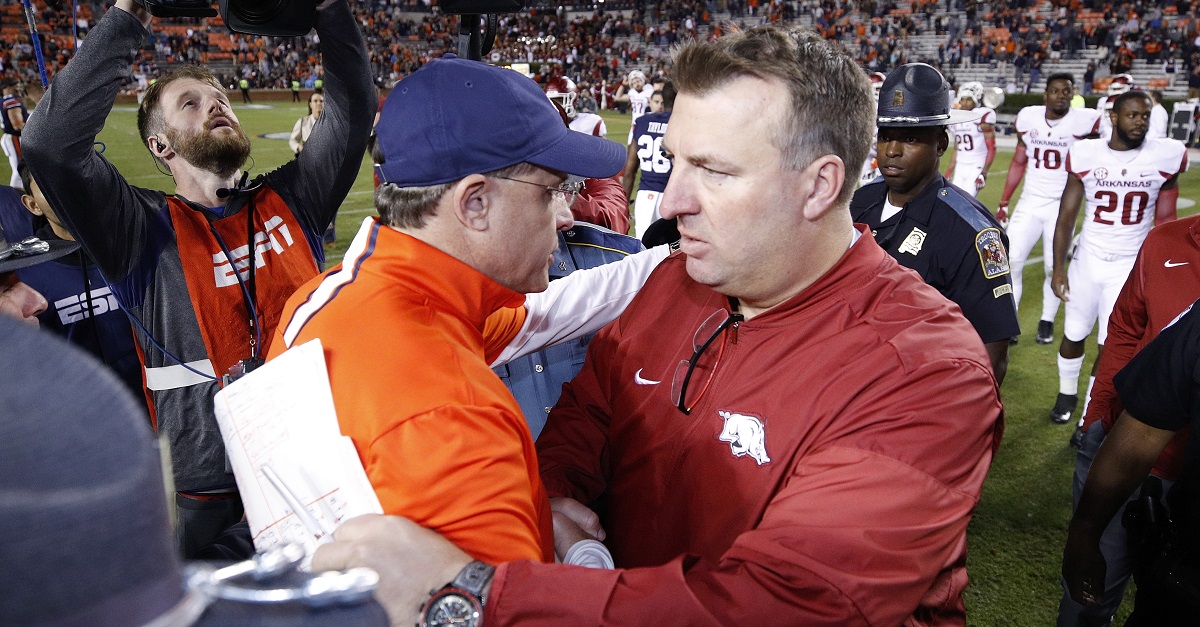 Joe Robbins/Getty Images
AUBURN, AL - OCTOBER 22: Head coach Bret Bielema of the Arkansas Razorbacks meets with head coach Gus Malzahn of the Auburn Tigers after the game at Jordan-Hare Stadium on October 22, 2016 in Auburn, Alabama. Auburn defeated Arkansas 56-3. (Photo by Joe Robbins/Getty Images)
The coaching carousel will be extremely busy this offseason in the SEC. There will certainly be openings at Florida and Ole Miss, and there will likely be openings at Tennessee and Texas A&M.
But there's another SEC team who could be looking to move after an embarrassing performance last Saturday, and that performance actually came in a win.
Arkansas was trailing 1-8 Coastal Carolina — a team that just made the transition to FBS this season — for most of the second half on Saturday, and while the Razorbacks did come back and win 39-38, the performance was still embarrassing and raised more questions about the trajectory of the program than it answered.
Yahoo Sports college football analyst Pete Thamel wrote that there's a good chance Bielema will be fired this offseason even if the Hogs reach six wins. Here's what he said about it in his column:
"Arkansas coach Bret Bielema also likely sealed his fate on Saturday by narrowly beating woeful Coastal Carolina, 39-38. The victory required erasing a 13-point fourth-quarter deficit. The Razorbacks (4-5) could still reach six wins, which was the mark that Bielema was expected to need to save his job. But that appears unlikely and may not be enough. This was the night the Arkansas fan base lost all hope."
Related: Week 11 Coaches' Poll bucks hard from the Playoff rankings with their No. 3 team
Arkansas finishes the season at LSU and home for Mississippi State and a suddenly resurgent Missouri team. Six wins looks unlikely, and the Razorbacks could even finish 4-8.
Bielema is 29-31 overall in nearly five seasons in Fayetteville, and the Hogs are 11-26 in the SEC under his watch. They've only had a winning conference record once in his tenure, and the best they can do is .500 this year.
Arkansas is a pretty good job, but they'll be competing with several schools in the league for a coach if they do decide to part ways with Bielema. Bielema had a successful tenure at Wisconsin, and if any coach on the hot seat should get another year to turn things around, he might be the guy.
Arkansas isn't a better job than Florida, Tennessee or Texas A&M. It's a better job than Ole Miss, but that's a lot of competition for the same pool of potential coaching hires.
A 4-8 finish would be inexcusable, but if Bielema can find a way to get to 6-6, he might be able to get one more year to turn the program around. Otherwise, add the Razorbacks to the lengthy list of schools in need of a new coach for 2018.