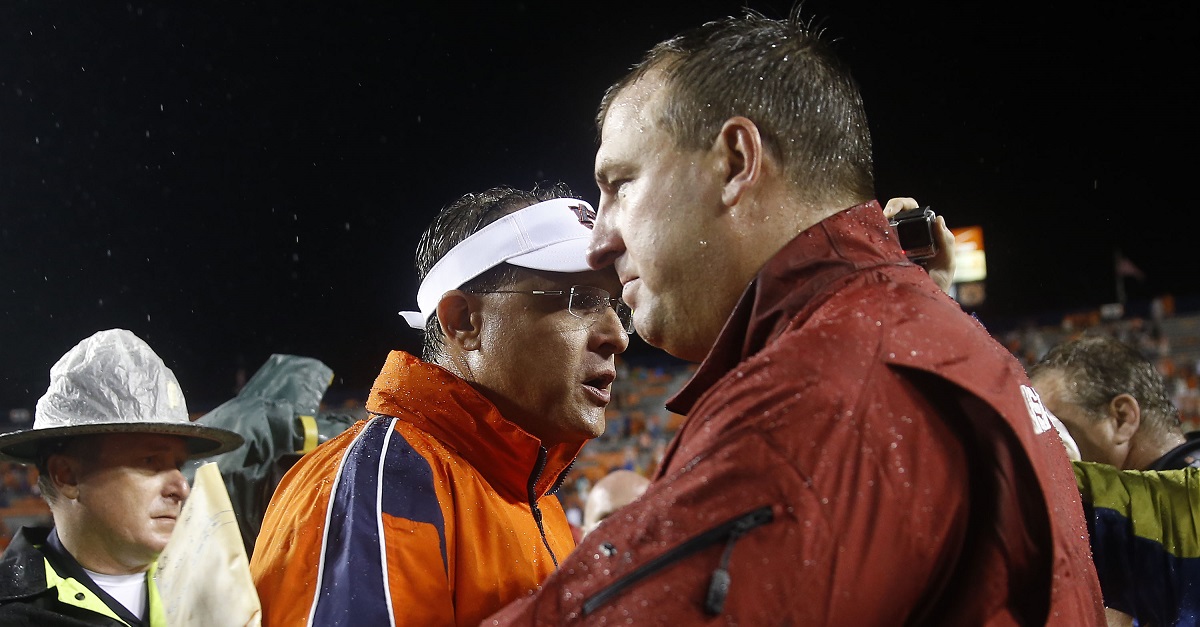 Mike Zarrilli/Getty Images
AUBURN, AL - AUGUST 30: Auburn Tigers head coach Gus Malzahn (L) shakes hands with Arkansas Razorbacks coach Bret Bielema after the game at Jordan Hare Stadium on August 30, 2014 in Auburn, Alabama. (Photo by Mike Zarrilli/Getty Images)
There have been quite a few coaches in the SEC on the hot seat this season including an already fired Jim McElwain, Auburn's Gus Malzahn, Texas A&M's Kevin Sumlin and Arkansas' Bret Bielema. Associated Press writer Ralph Russo appeared on Sports Talk with Bo Mattingly and is convinced that Bielema will be out by the end of the year.
Bielema might be able to salvage his job if he can win the next three games against LSU, Mississippi State and Missouri to finish the season 7-5 (4-4 SEC) and get to a bowl game. However, Russo wasn't feeling confident about a win against LSU this weekend.
"I'm not seeing a lot of reasons why Arkansas would be able to keep the LSU game close," he said.
Will Russo turn out to be right about this weekend and Bielema's job security? Signs are definitely pointing toward that as of now.