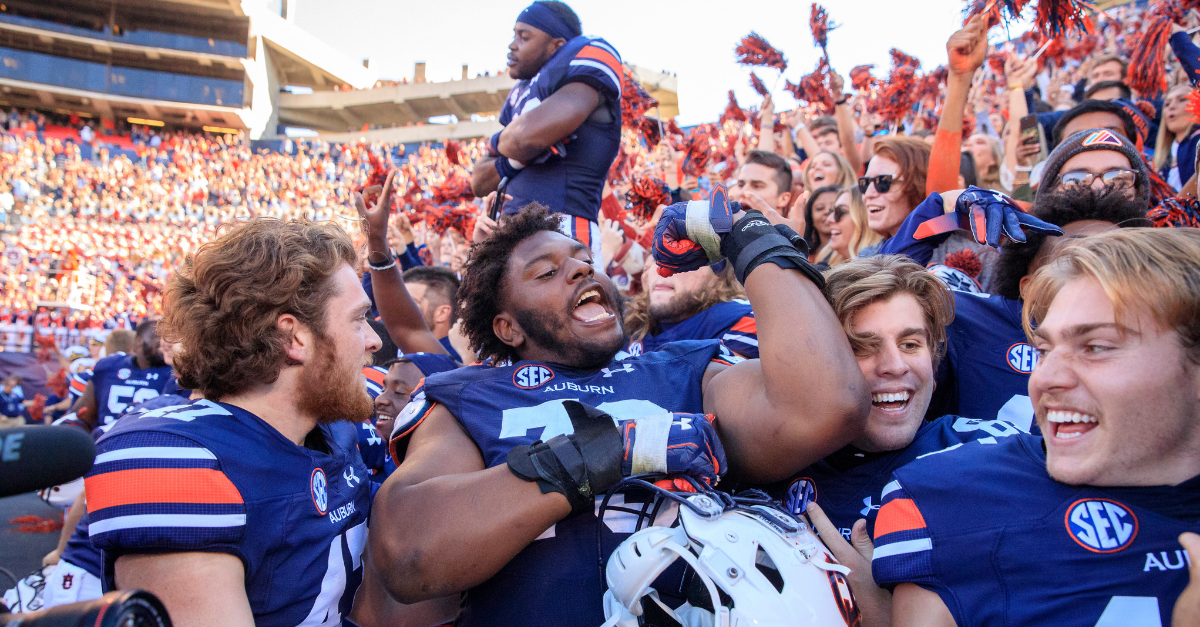 AP Photo/Todd Kirkland
AP Photo/Todd Kirkland
For 53 minutes and some change, the Texas A&M Aggies dominated Auburn. The Tigers couldn't move the ball to save their lives, but their fortunes would change in the last seven minutes as Auburn would defeat Texas A&M, 28-24.
The Auburn Tigers desperately needed this win in order to keep their New Year's Day bowl hopes alive and to keep them out of the Birmingham Bowl.
There were a number of factors that went into play in the Tigers come from behind victory.
1. Jimbo Fisher's Terrible Play Calling
Going into the fourth quarter, Texas A&M was leading by 10 and marching for another score. Then, quarterback Kellen Mond would throw an interception that change the momentum of the game. Fisher decided to throw instead of running the ball despite the Aggies having success with running back Trayveon Williams, who had 107 yards rushing and three total touchdowns, but for some reason Fisher decided to pass instead of run, which may have cost his team the game. Putting the game into his quarterback's hand and expecting him to make enough plays to win the game was a HUGE mistake, one Fisher I'm sure he wishes he could take back.
2. Turnovers
Auburn got back in this game because of turnovers — 14 of the Tigers points came off of turnovers, including the game-changing Kellen Mond interception which Auburn took advantage of and cut the Aggies lead to three. Also, a missed field goal early in the fourth quarter that would have given the Aggies a 13-point lead helped when Auburn needed it most.
3. The Play of Jarrett Stidham
We finally saw the old Jarrett Stidham as he was clutch down the stretch. Luckily for Auburn, Stidham's arm was the reason the Tigers were able to win this game. The Tigers only rushed for 19 yards, which is why they struggled offensively in this game until the fourth quarter. The Tigers under Stidham came to life as he orchestrated two touchdown drives in the closing minutes of the ballgame to deliver Auburn their sixth win of the season.