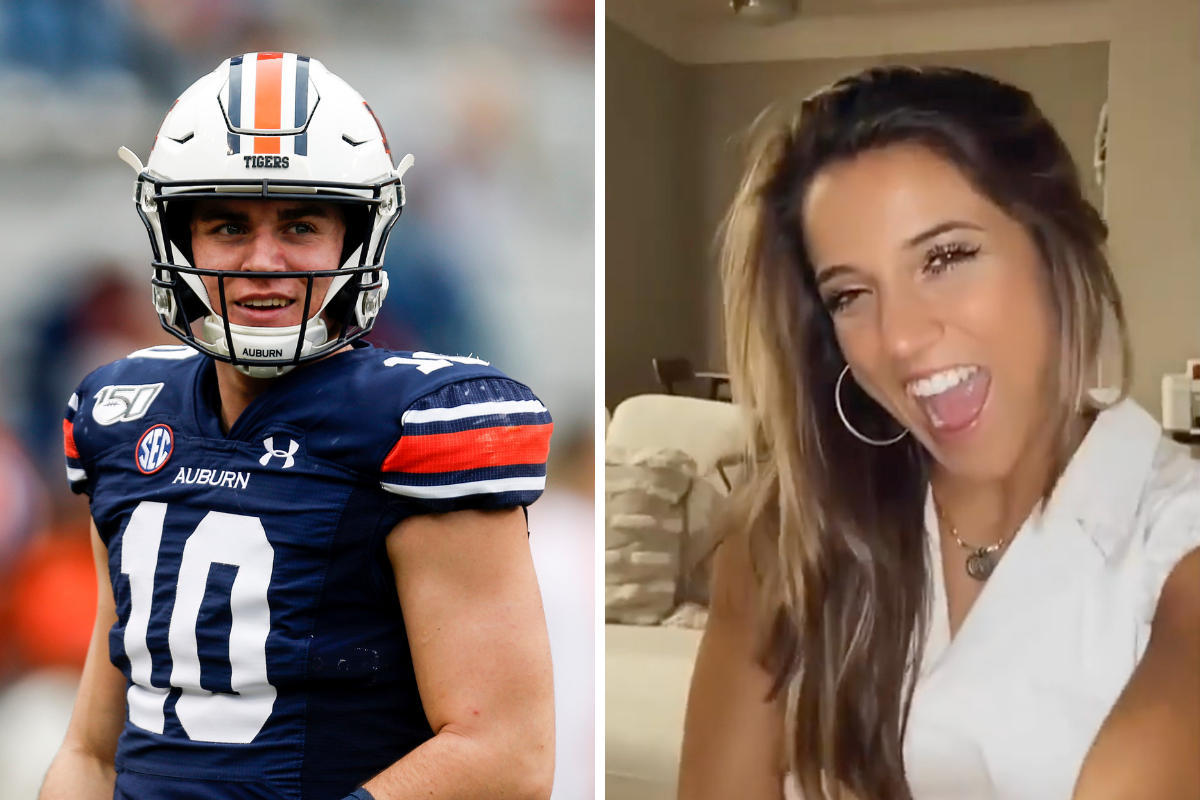 AP Photo/Butch Dill (left), Screenshot from Instagram (right)
Quarterback Bo Nix arrived at Auburn University with big expectations. His father, Patrick Nix, was an Auburn football legend and Bo was named the starting quarterback for the 2019 season opener against Oregon.
It was a new phase for the true freshman and a new phase for the Auburn football program. Entering his third season as starter, Nix is about to embark on another new phase.
This time it's in his personal life.
Bo Nix Gets Engaged to Girlfriend Izzy Smoke
The dual-threat quarterback didn't get down on one knee to seal the victory over LSU or newest SEC football foe Texas. No, the Pinson Valley High School grad got down on one knee this offseason to propose to his girlfriend Izzy Smoke.
Smoke is a member of the Auburn Tigers cheer squad. It seems she and Bo have been dating for about a year. Other than dating the starting Auburn quarterback, Smoke seems to live a normal and cheerful college life, according to her social media.
Not only does she have an awesome last name, she also has a new piece of jewelry. And she could become "Izzy Nix" once the two officially tie the knot.
How did he pay for the diamond ring? Maybe he can thank the new NCAA NIL laws and his deal with Milo's Sweet Tea.
Bo Nix's Auburn Career
RELATED: Bryan Harsin?s Wife is the New First Lady of Auburn Football
The American football player was a huge target for former Auburn coach Guz Malzahn out of high school. He was named Alabama Mr. Football and a USA Today All-American as a senior and chose to follow in his dad's college football footsteps.
Nix's ability was evident in leading the Tigers to a comeback win over Oregon in his first game under center. He followed it up with a thrilling Iron Bowl victory over Alabama. His performance was enough to earn the SEC Freshman of the Year in 2019.
Nix threw for 2,415 yards and 12 touchdowns against seven interceptions as a sophomore while Auburn went 6-5 and fired Malzahn. As Malzahn went out, new head coach Bryan Harsin came in from Boise State.
Again, Nix is entering a new phase in his football career in 2021. This time, he has a fiancée by his side.