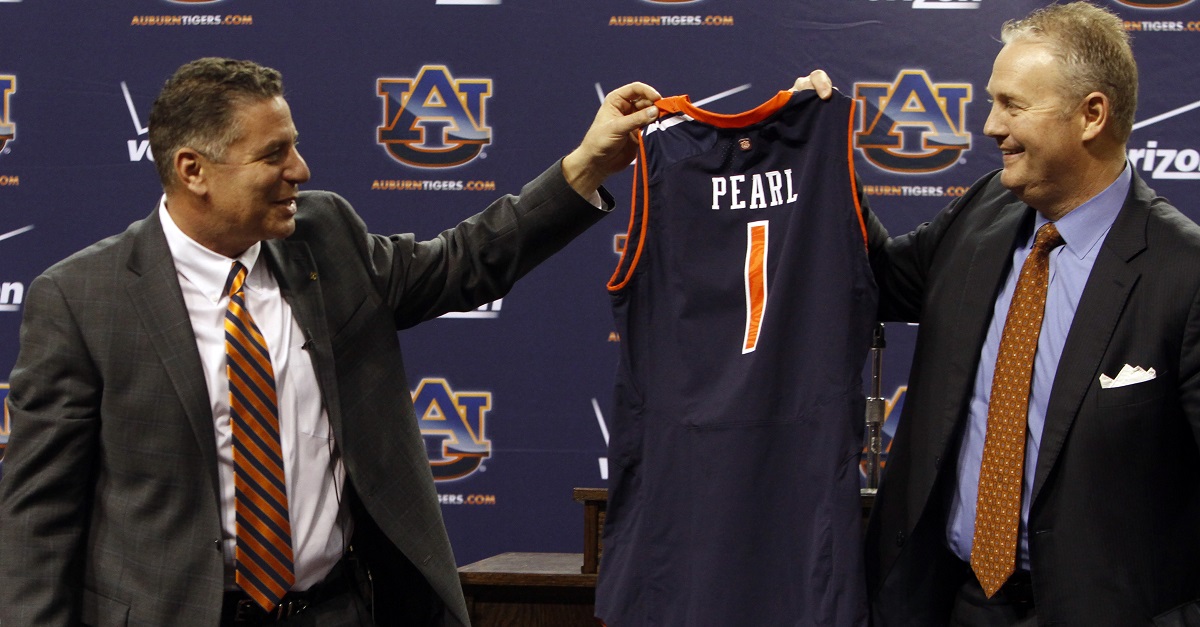 AP Photo/Butch Dill
Auburn athletic director Jay Jacobs, right, introduces men's basketball coach Bruce Pearl, as they hold up a jersey on Tuesday, March 18, 2014, in Auburn, Ala. (AP Photo/Butch Dill)
There has been plenty of speculation about the future of Jay Jacobs at Auburn and, on Friday afternoon, word broke that he was not long for the position of Athletic Director at the university. Jacobs, who has been at the top of Auburn's athletic department for nearly 13 years, will be on the way out before June 1, 2018.
In the aftermath of the news breaking, AL.com unearthed Jacobs' letter to Auburn donors announcing the decision and a snippet reads as follows:
The last several months have been a particularly difficult time. Across several sports, a series of controversies have arisen. They have begun to take their toll and have raised questions about why Auburn must endure such problems. As I have always done, I have worked my hardest and best to do what is right for Auburn.
I believe in Auburn and will fight for Auburn. But as I consider the future and what is best for Auburn, I have prayerfully decided the time has come for me to step aside. Sometimes a new direction and new leadership are helpful in moving beyond current problems.
Earlier this week, I informed President Leath that I will step down as Director of Athletics on June 1, 2018, or sooner if my successor is in place. I have come to this decision after a lot of prayer, deliberative discussions with my wife, Angie, and with the realization that it is time for a new leader of an incredible Department.
It goes on to note that Jacobs "will work hard every day every way I can" until the position is filled and the timeline for a new hire remains up in the air at this point. Still, this is a very high-profile move in the SEC universe, as Jacobs has long been a visible figure, even when compared to other AD's in the conference.
Jacobs' tenure with Auburn began unraveling recently during the FBI's recent probe into illicit benefits in college basketball. One Auburn basketball coach was arrested, and now it looks like Jacobs is going the same way as Rick Pitino and Tom Jurich went at Louisville.
Names will likely begin to fly in conjunction with an important position at Auburn but, for now, we know that Jacobs' tenure will be coming to a close within the next few months.