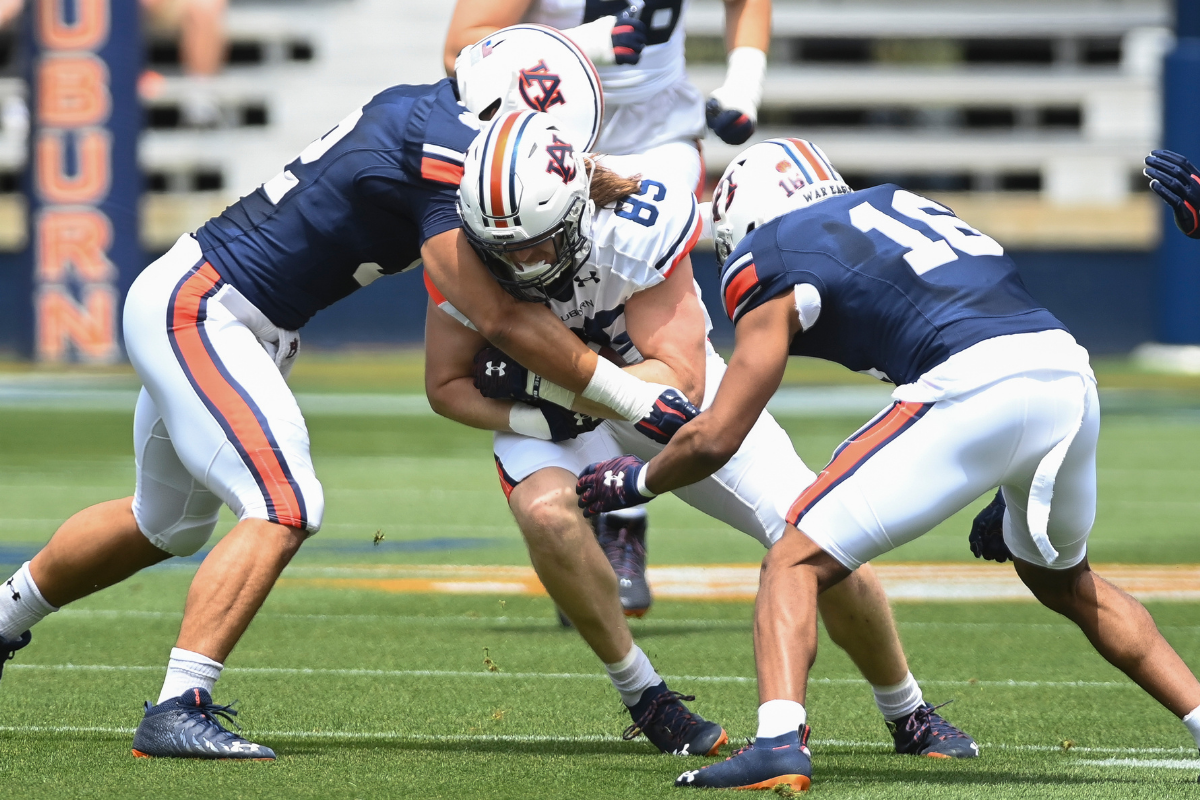 AP Photo/Julie Bennett
The list of new faces for the Auburn Tigers starts all the way at the top.
Head coach Bryan Harsin enters his first season at the helm with a lot to prove. He's bringing a breath of fresh air to the program after Gus Malzahn was let go at the end of the 2020 season.
On the offensive side of the ball, quarterback Bo Nix will be looking for new targets. Eli Stove, Anthony Schwartz and Seth Williams, the team's top three receivers last year, are all gone.
The huge loss of production through the air leaves an opportunity for someone to step up.
Enter tight end Tyler Fromm.
Fromm has seen little action so far in his college football career, but his pass-catching ability (along with his family genes) and the new pro-style offense could help him shine.
Tyler Fromm Recruiting & Highlights
RELATED: Bo Jackson's Nephew Could Be Auburn's Next Breakout Wide Receiver
Fromm was a three-star recruit out of Warner Robins High School in Warner Robins, Georgia. He held offers from Colorado State, Florida, Louisville, LSU, Marshall, Maryland, North Carolina, Ole Miss, Purdue, South Carolina, Troy, USC, Vanderbilt and Wake Forest before committing to Auburn.
The class of 2019 tight end is known for his astute route-running ability and great hands. I'm sure his brother, former Georgia QB and current Buffalo Bills signal caller Jake Fromm, helped develop those skills. It doesn't hurt that his twin Dylan Fromm is also skilled at slinging the ball. He's a quarterback at Mercer University.
Tyler Fromm Auburn
Fromm primarily played wide receiver in high school. He switched over to tight end once he arrived in Alabama.
He started his college career at 6-foot-5, 225 pounds. The sophomore has put on 15 pounds of muscle to get down and dirty in the trenches when he has to. Fromm didn't see the field much last year because he was battling a lingering shoulder injury from high school. He appears to be healthy now.
Fromm should be one of the biggest beneficiaries of Harsin and offensive coordinator Mike Bobo's system. Both love to use tight ends and will feature multiple in a lot of formations.
Bobo spent last season at South Carolina, where tight end Nick Muse was the second-leading receiver on the team. Harsin utilized tight ends John Bates and Riley Smith quite a bit at Boise State last year, too.
The Tigers return John Samuel Shenker and Luke Deal at the position. Fromm, who only saw the field once last year, was the one creating buzz in spring practice. Coaches said he hit the weight room hard, developed his blocking and quickly learned the new offense.
Shenker and Deal offer experience, but Fromm brings playmaking ability. Bobo loves his tight ends, and the chances of seeing multiple on the field at the same time are high.
Fromm has all the tools to seize the opportunity.
Related Videos