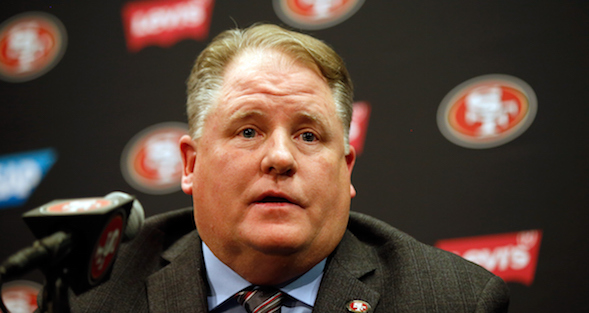 Ezra Shaw/Getty Images
SANTA CLARA, CA - JANUARY 20: Chip Kelly speaks to the media during a press conference where he announced as the new head coach of the San Francisco 49ers at Levi's Stadium on January 20, 2016 in Santa Clara, California. (Photo by Ezra Shaw/Getty Images)
Chip Kelly has reportedly agreed to become the next head coach at Florida. That is unless he backs out, which his contract reportedly allows for:
Kelly reportedly has met with UCLA after the Bruins fired Jim Mora and he's expected to decide between the that and the Florida job in the coming days.
Kelly recently spoke about his interest in the Florida job while on SportsCenter and didn?t really give an answer about being interested in it. He basically said that he has a lot of respect for what Urban Meyer and Steve Spurrier did there to make the Gators in national title contenders in those eras.
It seems like forever since Kelly was running through the college football world at Oregon but his appeal is clear and two potential future heavyweights in the sport now seem to be battling for his services on the sideline.