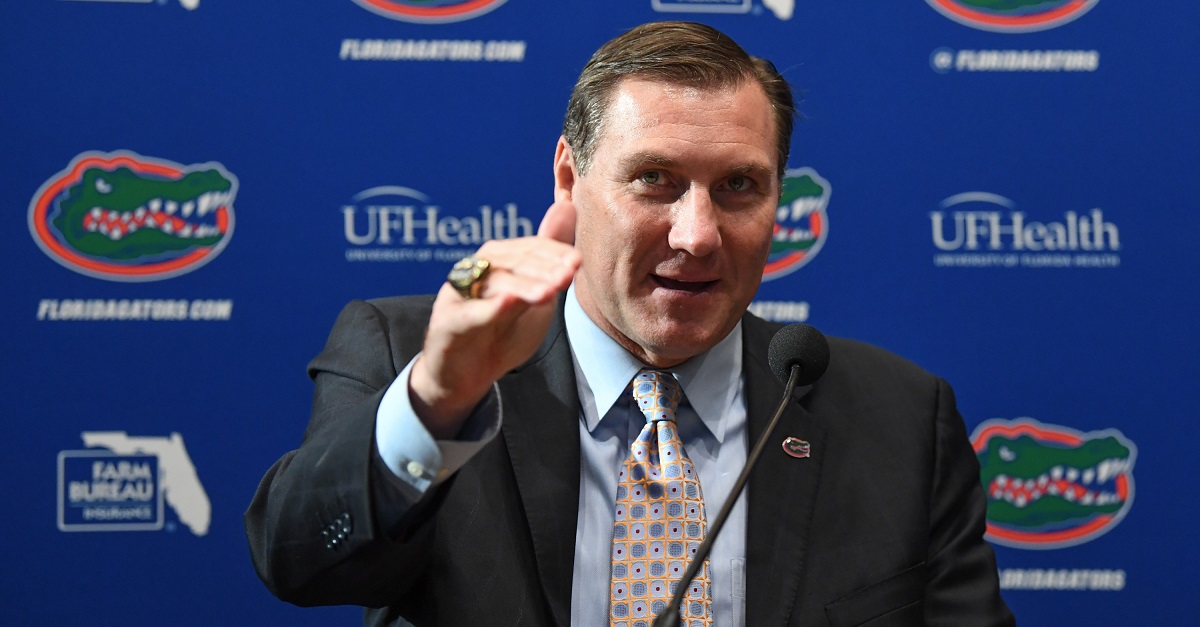 Photo by Rob Foldy/Getty Images
It's almost tradition at this point for University of Florida head coaches to troll their rivals. You know, the Georgia's, Tennessee's, Florida State's and the LSU's of the world.
Steve Spurrier is the unquestioned king of it, even firing off zingers at Tennessee after one Orlando Apollos game. Former coach Jim McElwain had little trouble calling out LSU, and Dan Mullen is getting in on the fun as well.
In a press conference this week, Mullen told reporters that he's intentionally fudged up spring game attendance figures to troll rivals. This year, he's thinking 41,014 for UF's Orange and Blue game. I'll let you consider for a moment why.
Related: Florida Honors Legendary FSU Coach's Retirement, Then Pours on 20 Runs
Did you figure it out? Any dedicated Gator fan knows 41,014 is a shot at FSU. Florida beat the Seminoles 41-14 last season, snapping a five-game losing streak against the in-state rival.
UF players didn't waste time trash talking Florida State either. Safety Chauncey Gardner-Johnson went full disrespectful when he happily toted a severed Seminole head, made sod angels in the end zone and nearly succeeded in planting a Florida Gators flag in the middle of Doak Campbell Stadium.
The Tampa Bay Times' Matt Baker did some digging into this matter and found that Mullen actually has done this twice before when he was Mississippi State's head coach.
The first came after the 2009 Egg Bowl. Mullen and the Bulldogs had just beat Ole Miss by a score of 41-27. The spring game attendance the following year? 34,127.
In 2013, Mullen and company edged past the Rebels, 17-10. The next announced spring game attendance? 21,710. (It appears someone got the joke at the time, though Twitter was still young.)
With the Orange and Blue Game on Saturday, Mullen has a couple different directions he can go with the number. There's 52,719 in honor of Florida's 27-19 win over LSU. Or maybe 47,021 following the 47-21 beatdown of Tennessee. Either way, keep a look out for that attendance figure when it's announced.