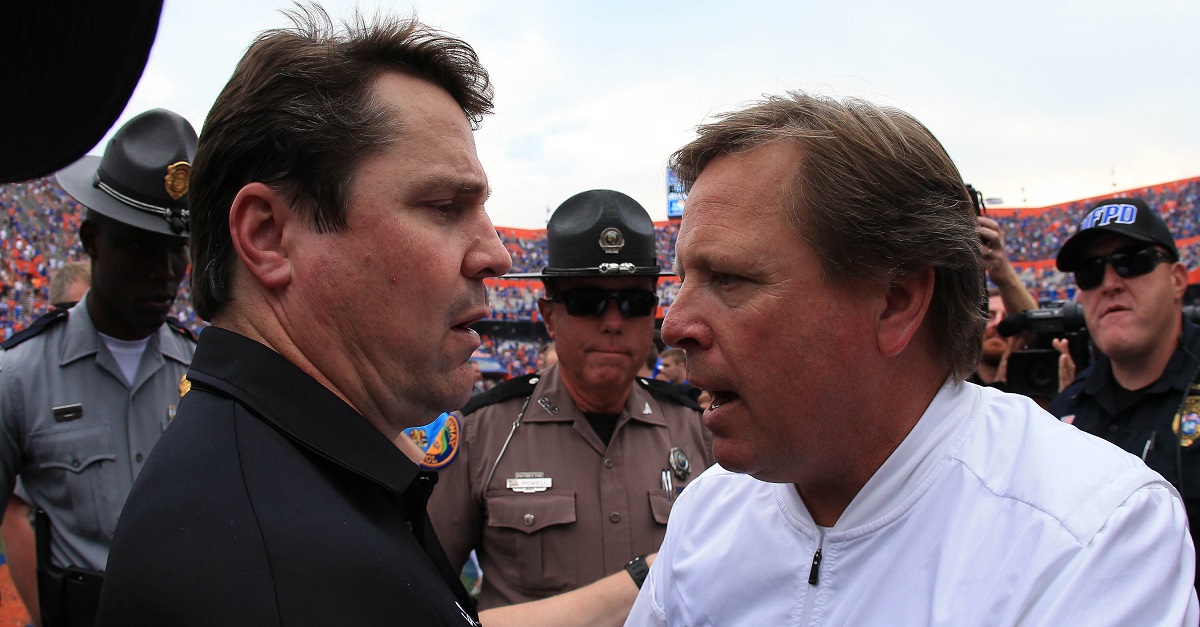 Rob Foldy/Getty Images
GAINESVILLE, FL - NOVEMBER 12: Head coaches Will Muschamp of the South Carolina Gamecocks and Jim McElwain of the Florida Gators shake hands after the game at Ben Hill Griffin Stadium on November 12, 2016 in Gainesville, Florida. (Photo by Rob Foldy/Getty Images)
Will Muschamp is not exactly considered a great coach by many people, but Frank Frangie of Gridiron Now believes that he is on the track to still become a superstar coach. Here is what he said in his article about how Muschamp can still be a superstar despite a current 34-28 record.
"The Gamecocks went 6-7 last season. Yet there were signs that special things could be on the horizon. After a slow start, the Gamecocks won four out of five games before running into eventual national champion Clemson in the regular-season finale. South Carolina was 4-2 in its final six regular-season games, losing only to SEC East Division champ Florida and the Tigers.

Along the way, Muschamp ? who turns 46 on August 3 ? found his quarterback of the present and future in Jake Bentley. In retrospect, the decision to pull the redshirt off Bentley at midseason may become the most important decision of Muschamp?s coaching career."
That last bit might be right about Bentley, but one quarterback does not make a dynasty as Nick Saban and Urban Meyer will tell you.
RELATED: Dabo Swinney shows Will Muschamp ultimate sign of disrespect ahead of intense matchup
Muschamp was named coach-in-waiting-behind the legendary Mack Brown, but left for the Florida job in 2011. He led the team to an appearance in the SEC Championship Game and ultimately a Sugar Bowl loss, but then the team went 4-8 in 2013 that was punctuated by a loss to Georgia Southern and then was fired after a 6-5 season in 2014.
He bounced back a year after that and ended up as the defensive coordinator at Auburn in 2015. He then took the South Carolina job after Steve Spurrier shockingly retired mid-season. In the 2016 season he led the team to a 6-7 record despite a short recruiting cycle for him and a pretty bare cupboard that was left by Spurrier. The expectations are higher this season and Muschamp should win around eight games, but how long will it be before he becomes a "superstar" like Frangie suggests?