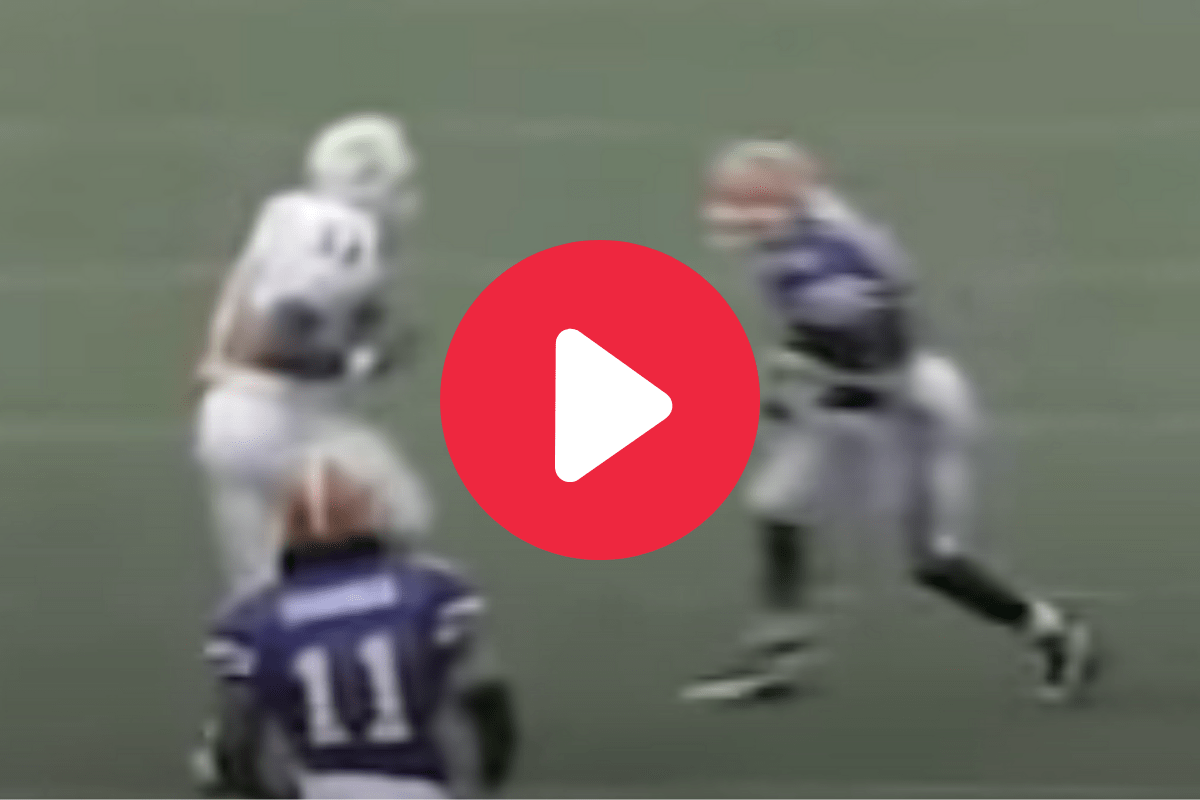 Screenshot from YouTube
Peyton Manning never beat the Florida Gators. No matter how good he was for the Tennessee Volunteers or in the NFL, he went 0-4 against the boys from Gainesville.
There were several factors to this winless mark, and one of them is Lawrence Wright.
During his days at the University of Florida, Wright became one of the best defensive backs in NCAA college football. He patrolled the secondary at Ben Hill Griffin Stadium like no other. His ?No Fly Zone? mentality was the stuff of legends and the two-time First-Team All-SEC deployed it for one of the biggest hits in UF history back in 1995.
?I made up my mind that whoever came across the middle next, they were going to get hit and hit hard,? Wright said years later.
The recipient of that pain was Tennessee wide receiver Joey Kent. Wright?s massive hit caused Kent to fumble and "The Swamp" went absolutely ballistic.
Lawrence Wright?s Hit vs. Tennessee
RELATED: Major Wright?s Hit Set The Tone For Florida?s 2008 BCS National Title
Go ahead and fast-forward to the two-minute mark in the video. You can tell Florida football fans were already loud as hell in order to slow down superstar quarterback Peyton Manning. Then, the hit happened.
Manning took the snap under center, dropped back, stepped away from the pressure and threw a strike to wide receiver Joey Kent near midfield. Florida safety Lawrence Wright then came out of nowhere to knock the ball loose and Kent off his feet.
Kent rolled around on the ground for a few seconds before trainers came out, and understandably so. Wright had just laid a boom on him that no man could simply pop up from. That got the crowd, and the sideline, juiced up more than ever.
?I saw that ball come out like slow motion,? Wright said. ?I saw Peyton step up from the rush and roll out from the pressure and I saw Joey cut up the field,? Wright recalls. ?He was coming straight at me and he never saw me because he was watching the ball into his hands. As for me, I wasn?t going to go for an interception. I was going to hit him as hard as I could.

?While he was looking the ball in, I had a full running start and I just launched myself at him. He got the full force of everything I had and the ball went flying.?
At one point, Tennessee was winning the top-10 Southeastern Conference showdown by 16 points late in the first half, but head coach Steve Spurrier and some touchdown magic by quarterback Danny Wuerffel helped Florida rattle off 48-straight points to down the Vols, 62-37.
Wright helped the Florida Gators football team win four SEC Championships and the national championship in 1996. He also took home the Jim Thorpe Award and earned Second-Team All-American honors.
Although his professional career was cut short, his big hit on Joey Kent will live on forever.
This post was originally published on July 10, 2020.