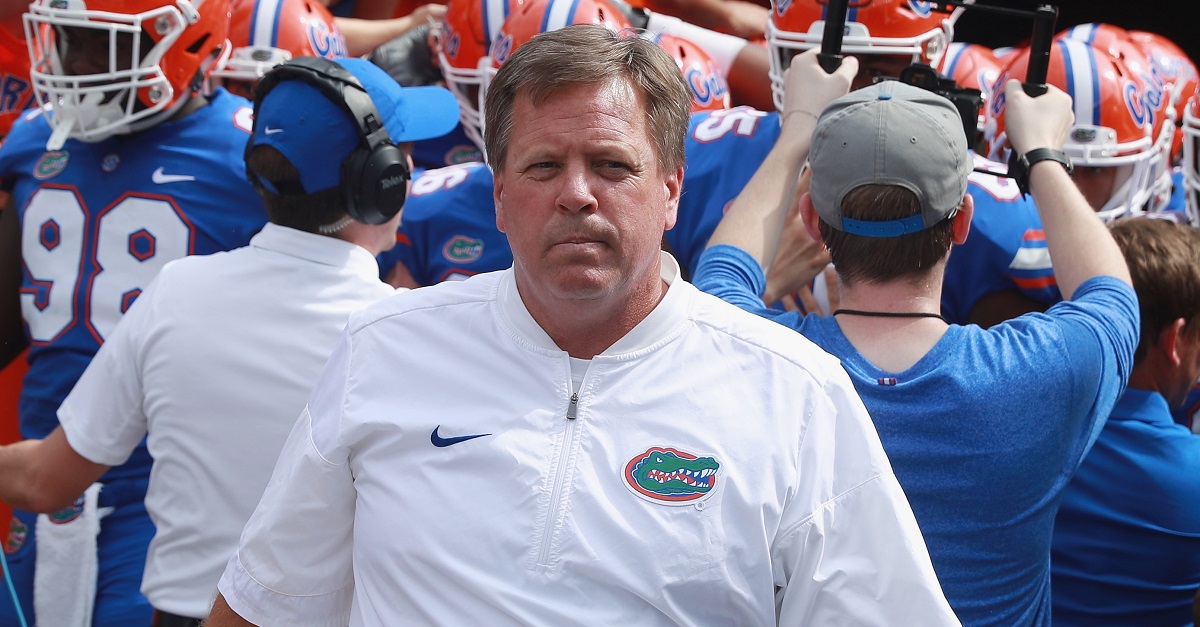 Scott Halleran/Getty Images
GAINESVILLE, FL - SEPTEMBER 16: Head coach Jim McElwain is seen on the field at the start of their game against the Tennessee Volunteers at Ben Hill Griffin Stadium on September 16, 2017 in Gainesville, Florida. (Photo by Scott Halleran/Getty Images)
Florida got some news in regards to the suspended players who have yet to see any action this season. It is likely good news as seven of the nine suspended players are going to receive pre-trial intervention according to Florida's official website.
Back in September, nine Gators were recommended for dozens of felony fraud charges against them because of the credit card fraud scandal. None of the seven players who have accepted pre-trial intervention would have faced more than a few charges, thanks to their allegedly limited crimes (relatively speaking). None of these seven players were alleged to have made more than two transfers of funds from credit card numbers to their personal University of Florida Bookstore accounts, and all seven allegedly only made a single purchase each with fraudulently obtained funds as Alligator Army states.
Those seven players will now get dispositions in the coming weeks and if those are ruled in their favor quickly, they could make their way back to the field assuming coach McElwain allows them. However, Nick de la Torre of Gator Country reports that the diversion plans — the actual execution of the plan after dispositions — will be 12 months.
That means they could return to the field before that and their charges could either be dropped altogether or be lessened if they follow through with all stipulations that come in the diversion plans. However, if this quote from McElwain holds, then just getting a favorable disposition won't be all that's required to get back on the field.
"We've been made aware of some updates in the legal process and there are still steps to go that include the University student conduct code," McElwain said.
That leaves freshmen Kadeem Telfort and Jordan Smith as the only two players who did not get pre-trial intervention plans. They could still face more than 10 felony charges due to the multiple uses of the fraudulently obtained credit cards. They are unlikely to get pre-trial interventions just because of the sheer number of charges against them.