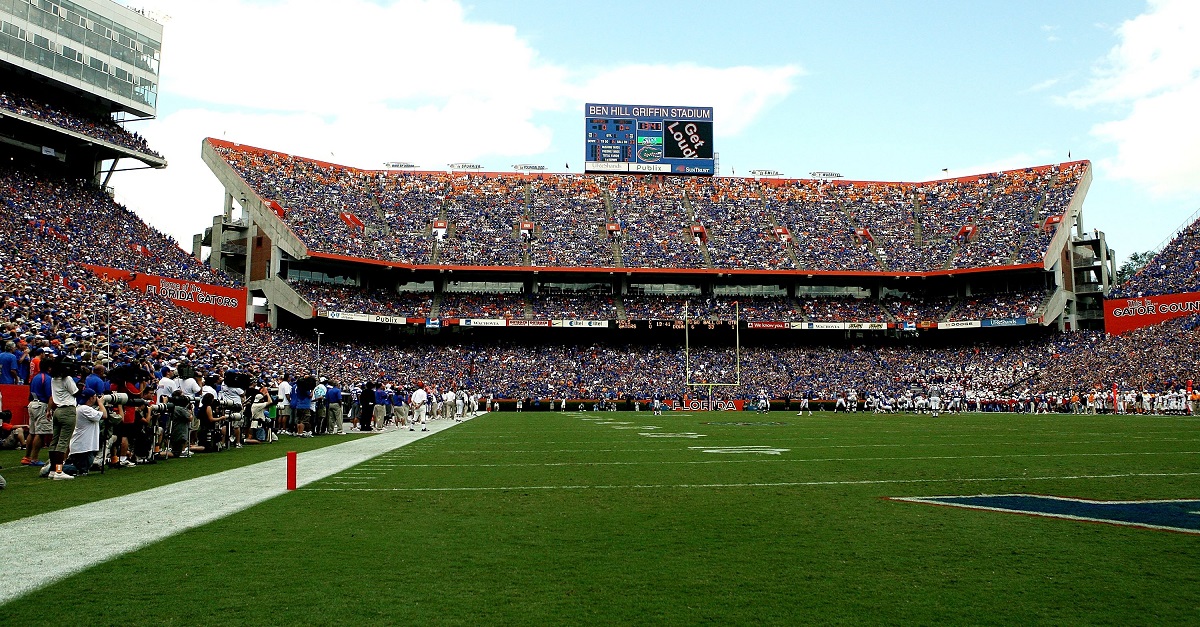 Doug Benc/Getty Images
GAINESVILLE, FL - SEPTEMBER 15: A view from the end-zone as the Tennessee Volunteers take on the Florida Gators at Ben Hill Griffin Stadium on September 15, 2007 in Gainesville, Florida. Florida defeated Tennessee 59-20. (Photo by Doug Benc/Getty Images)
Former Florida quarterback Chris Leak is under investigation by the Orlando Police Department for his role in an alleged sexual assault of a 16-year old girl in September. The former BCS Championship-winning quarterback was coaching at Edgewater High School in Orlando, Florida before he resigned earlier in the week after the team got off to a 0-5 start in his first year at the school.
RELATED: Chris Leak under investigation for sexual assault
The victim of the alleged assault spoke to Orlando police and here are some of the main points of her account of the incident that took place last month:
"The week before Labor Day Chris Leak asked me to give him a massage because his massage therapist was unavailable. Coach Leak also thought I was sleeping with a boy on the team and told me I broke his trust. Coach Leak told me if I give him the massage it would help build the trust back. I massaged the back of his legs for 15 minutes. I told him I was done because my hands got tired. Coach Leak then rolled over on his back. Coach Leak then told me to massage the front of his legs. He pulled my hands up to touch his penis. My hand grazed his penis a few times. His penis was hard when I touched it. I walked out of the office and walked off campus."
The female also says that Leak called her multiple times after she left and ended up giving her a ride home.
She reportedly told her friend about the incident and says that Leak gave her friend $100 after that.
Leak owns the record for most passing yards in a career at Florida with 11,213 and is second in passing touchdowns with 88 behind Heisman winner Danny Wuerffel. He was also a big reason the Gators won the 2006 BCS Championship Game over Ohio State as he threw for 213 yards and touchdown in the 41-14 win.
[h/t Deadspin]