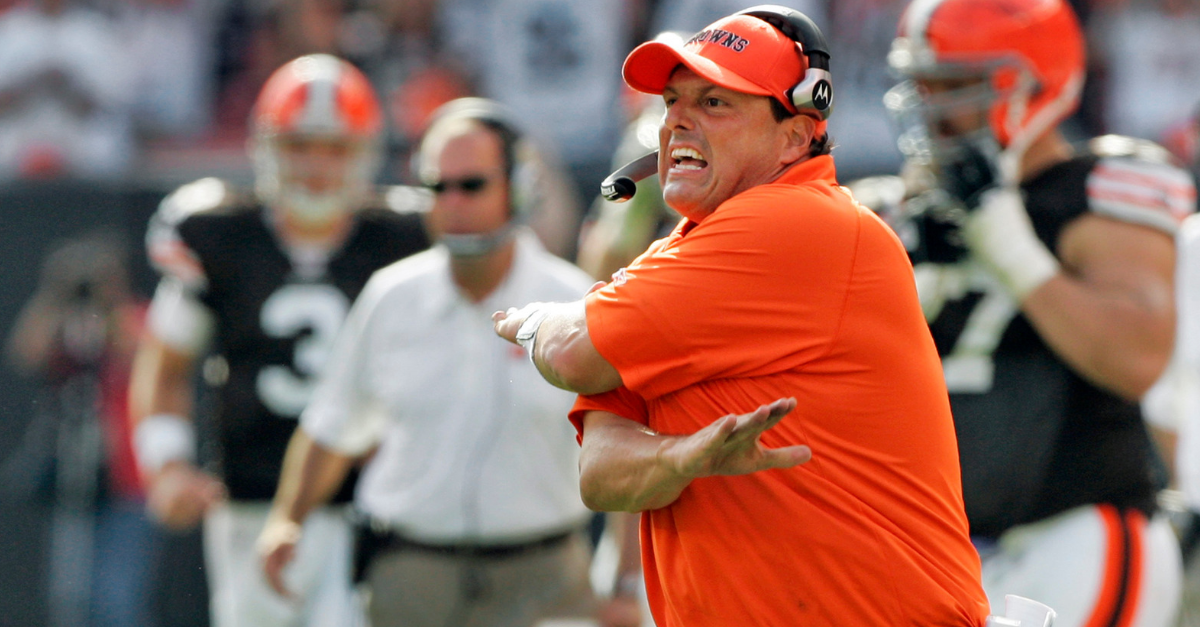 AP Photo/Mark Duncan
The Florida Gators haven?t even taken the field for the 2019 season but they?re already 1-0 this offseason. Make it two wins this calendar year if you count their Peach Bowl win over Michigan in January.
Reports indicate that UF defensive coordinator Todd Grantham is staying in Gainesville despite receiving interest from NFL teams. The Bengals were among the most aggressive suitors ? Grantham reportedly visited the team, too ? but he ultimately opted to stick alongside Dan Mullen in the Swamp.
Related: Dan Mullen's Salary This Season is Enough for Most People to Retire
What isn?t known about the Bengals reported offer is how much it was worth. The Gators, however, knew NFL teams would come calling Grantham, which is why they gave him a raise in January. The 52-year-old now makes $1.8 million per year, according to the Gainesville Sun?s Pat Dooley, which is the fifth-highest salary among college defensive coordinators.
But according to Gator Country?s Nick de la Torre, the possibility of Grantham leaving for the NFL is still there. His contract states that he?d have to owe 50 percent of the remaining money on his contract if he took a job that isn?t a Division I head coach, NFL head coach or NFL defensive coordinator.
Basically, he wouldn?t leave Gainesville unless it were for a better opportunity?like the NFL.
If Grantham is still Florida?s defensive coordinator by the time August rolls around, the Gators should be elite defensively next season. In 2018, UF featured the 20th-ranked scoring defense, the 17th-ranked passing efficiency defense and tied for 11th with 26 takeaways.
Although defensive end Jachai Polite and safety Chauncey Gardner-Johnson are moving on to the NFL, Grantham should still have plenty of playmakers at his disposal. UF did just reel in a top-10 recruiting class as well.
Continuity, especially among college coaching staffs, is a great thing when it comes to recruiting. We?ve seen recruits knock Alabama because so many coaches cycle through Tuscaloosa. Keeping Grantham is about more than just the play on the field. It's about the players.
More NFL teams might want him, but for now it appears he?s a Gator.