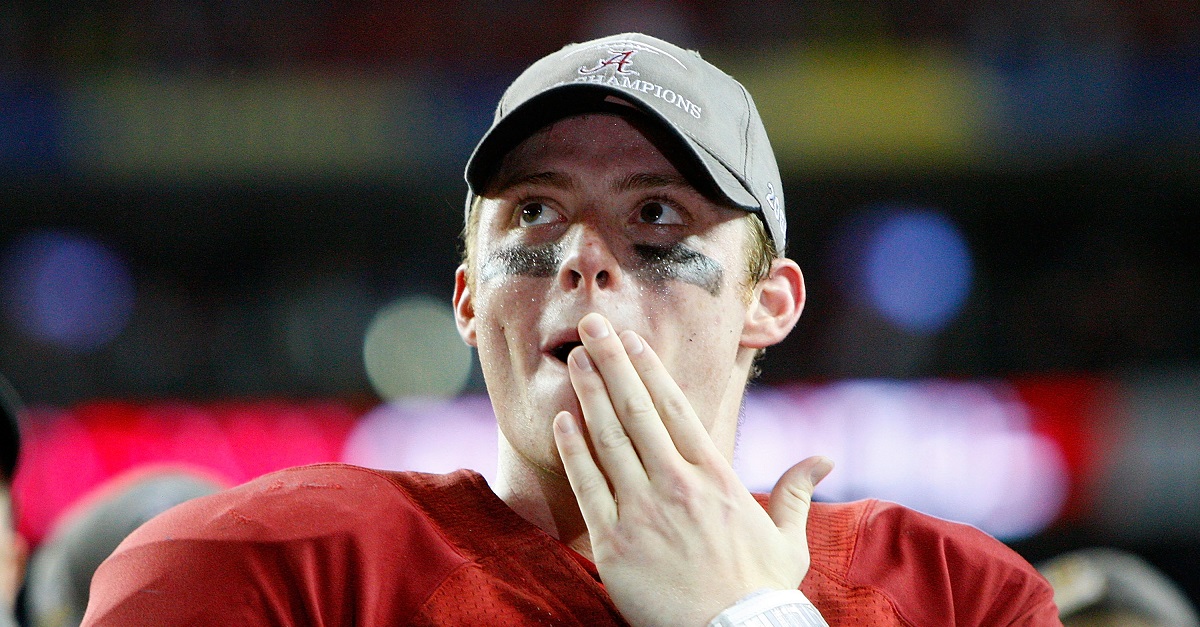 Kevin C. Cox/Getty Images
ATLANTA - DECEMBER 05: Quarterback Greg McElroy #12 of the Alabama Crimson Tide celebrates after their 32-13 win over the Florida Gators in the SEC Championship at Georgia Dome on December 5, 2009 in Atlanta, Georgia. (Photo by Kevin C. Cox/Getty Images)
Greg McElroy is a legend at Alabama for leading the Crimson Tide to an undefeated season and a National Championship. He's also an SEC expert and analyst for ESPN so he still keeps up with the game despite being retired from it. He was at SEC Media Days and was asked about how Georgia will look this year.
RELATED: Pair of former starters set to launch new TV show on SEC Network
He spoke specifically about the second game of the season against Notre Dame and said it should be a pretty big blowout in favor of the Bulldogs.
?On paper, Georgia should win the game by at least 20 points,? McElroy said during SEC Media Days on Tuesday.
Georgia has only played Notre Dame once before in 1981 for the national title and won that game 17-10. The second meeting ever between the two schools should be a good one despite the Fighting Irish limping to a 4-8 record last season. They will be much improved under Brian Kelly and should be considering his job is likely on the line this season.
Even with improvement from quarterback Jacob Eason and the return of healthy running backs in Sony Michel and Nick Chubb, a 20-point blowout seems a bit ridiculous.
[h/t Dawg Nation]