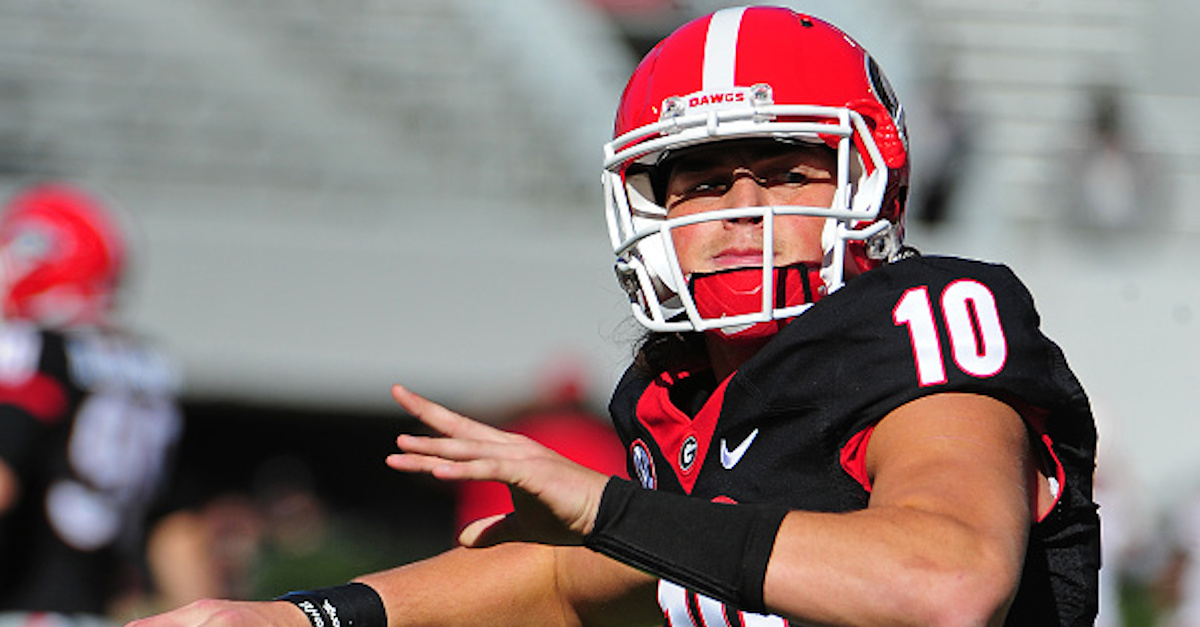 Scott Cunningham/Getty Images
ATHENS, GA - NOVEMBER 19: Jacob Eason #10 of the Georgia Bulldogs warms up before the game against the Lousiana-Lafayette Rajin' Cajuns at Sanford Stadium on November 19, 2016 in Athens, Georgia. (Photo by Scott Cunningham/Getty Images)
ESPN and SEC Network analyst Greg McElroy made some waves earlier in the week at SEC Media Days when he said that Georgia should "blow out" Notre Dame and win by 20 or more points. He's doing it again on the topic of Georgia by trying to grind the Jacob Eason hype train to a sudden stop.
RELATED: Greg McElroy believes Georgia will blow out Notre Dame
Eason has received comparisons to current Detroit Lions and former Dawgs quarterback Matthew Stafford because of how much hype they came into school with and how they played during their freshman season. Eason actually had about 700 more passing yards to go with nine more touchdowns and five less interceptions, but don't tell McElroy. On the Saturday Down South Podcast, McElroy outlined why Eason is actually much worse than Stafford was at this stage in their careers.
"He's a great thrower, but he's not yet a great quarterback, if that makes sense," McElroy said about Eason. "And that's okay, because he's a freshman. There's a certain level of savvy you have to have at the quarterback spot. And everyone, Georgia fans alike, have said, 'Oh, look at his numbers against Matt Stafford.' Okay, but Matt Stafford is 100 times the player Jacob Eason has been to this point. Moving around, being able to negotiate a rush, being able to move throughout his reads and progressions and being able to adjust and be athletic when necessary.
Eason put up his numbers despite having a lackluster receiving corps and not too much from his running backs since they were injured much of the year. However, the former Alabama QB and National Champion is clearly not as impressed with the young QB's insane numbers this early in his career. Should the Dawgs win the SEC East behind a strong season-long performance from Eason, you have to think that McElroy will change his tune.