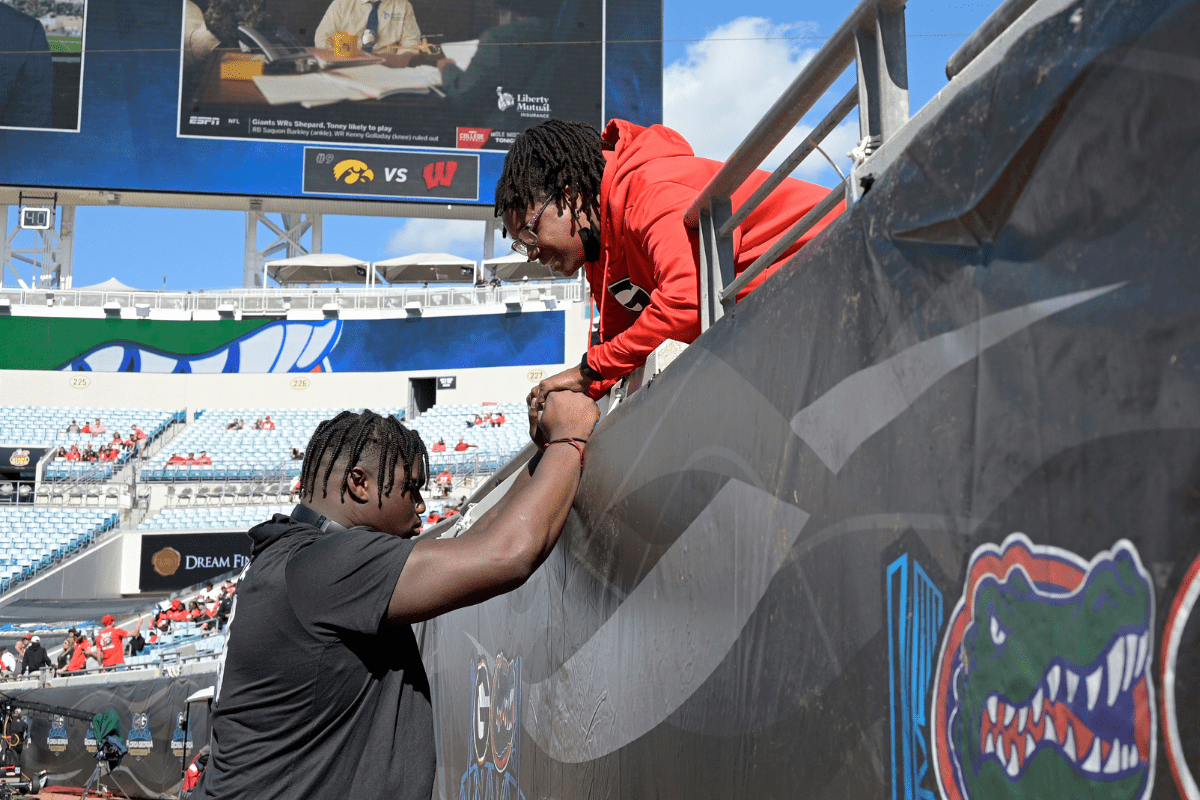 Phelan M. Ebenhack/AP Photo
Jordan Davis anchored one of the best defenses college football has ever seen last season
The Georgia defensive tackle has registered 32 total tackles which included two sacks and five tackles for loss. While those stats may not jump off the page, Davis' impact is immeasurable. He forces offensive coordinators to plan around him and creates havoc for the offensive line. The 6-foot-6, 340-pound football player has some ball skills, too.
Davis won the Outland Trophy, given to the nation's best interior lineman, and the Bendarik Award, given to the best defensive player in college football. Individual accolades are great and all, but his spectacular season was properly capped with a national championship win over Alabama.
Davis' goal on the field may be to terrorize quarterbacks, but off it, his number one priority is his mom and younger brothers.
Jordan Davis' Mom Shay Allen
RELATED: Jordan Davis' Electric Rushing TD Was 340 Pounds of Brute Force
Jordan Davis finds his mother in the stands before each game. The two embrace, give thanks and reflect on how they got to where they are.
"Always think about where you came from, think about where you are presently," Allen said. "Just make sure you never look back. Sometimes, you've got to keep the past in hindsight to just keep propelling you to keep making moves further from your past. That's pretty much what I pray."
Davis grew up without a father in the picture. His mother worked multiple jobs in addition to her teaching gig to provide for her son, and when she had two more boys, Donovan and Yashua, Jordan assumed the man of the house role. Shay described Jordan growing up as "quiet, easy-going, sweet" with "typical boy" characteristics. The quiet, easy-going and sweet teenager started picking up his brothers from daycare and babysitting on the weekends. He would even volunteer to relieve his mother when he saw she needed a break.
Davis kept up the routine as college football offers started filing in. He and Shay were eventually won over by Georgia defensive line coach Tray Scott, but his time in Athens got off to a slow start. Davis struggled to see the field, but his mother always encouraged him to keep going.
"You stick with it," Allen said. "You don't like the playing time, you work your ass off and you get some playing time. The person that's ahead of you, you knock them out. Either you're going to want it or you don't. if you don't get where you want to be, it's because you didn't want it bad enough. That's always how I treated Jordan."
Davis took his mother's words to heart and became one of the best players in the country. When the Georgia Bulldogs defender is selected in the 2022 NFL Draft, where he's projected to be a first-round pick, there's no question who he'll hug first.
Related Videos