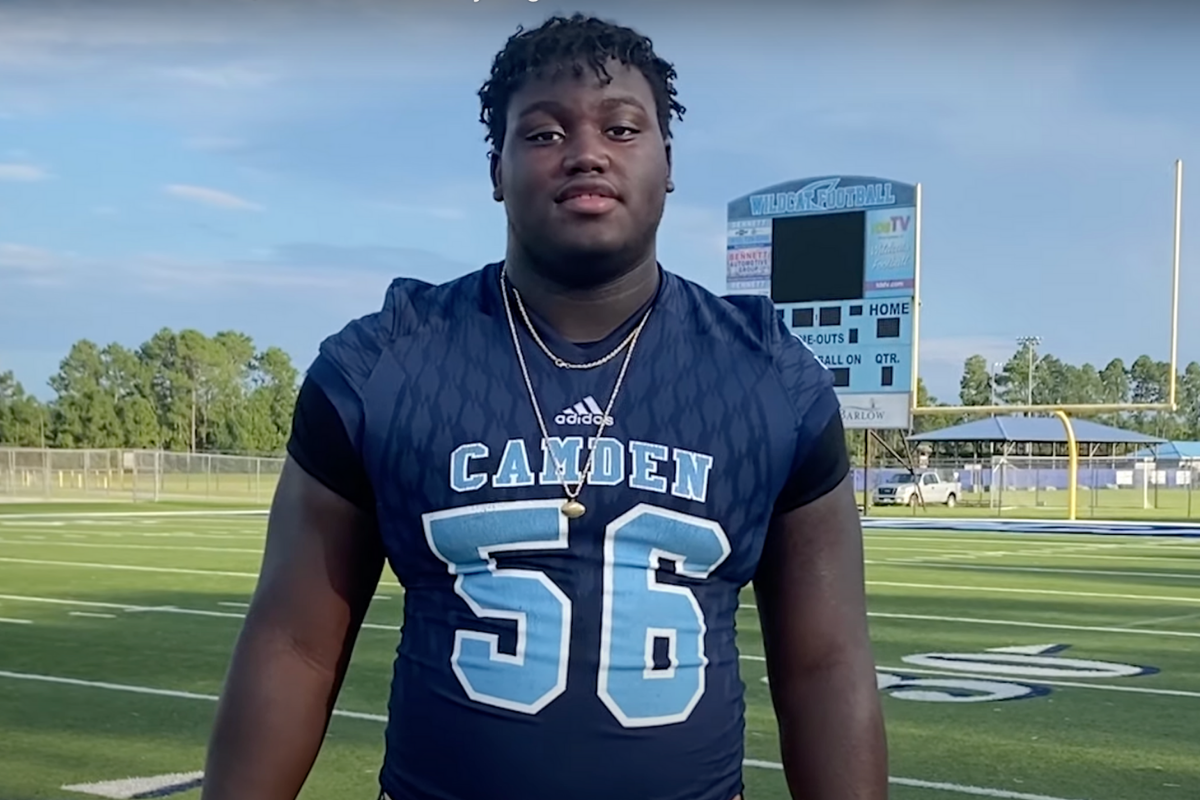 Screenshot from YouTube
Kirby Smart has done it again. The head coach of the Georgia Bulldogs has a knack for recruiting the best in-state players to join his squad, and offensive tackle Micah Morris is the latest example.
Morris, a four-star tackle who excelled at Camden County High School, decided to move from Kingsland to Athens to play for the Dawgs this fall.
The state of Georgia is a hotbed of talent, and once again, fans have to like what Smart has done with his team's 2021 recruiting class.
Micah Morris Commits to University of Georgia
RELATED: Georgia's New In-State Linebacker is a Drill Sergeant's Son
Despite the Bulldogs having the leg up in the recruiting race, Micah Morris fielded offers from programs across the country.
Alabama, Clemson, Florida, Florida State, Georgia Tech, LSU, Miami, Minnesota, Mississippi State, NC State, North Carolina, Ohio State, Oklahoma, Ole Miss, Oregon, South Carolina, Tennessee, Vanderbilt, and West Virginia reached out and offered the 330-pound offensive lineman a scholarship.
Thankfully for Smart and his coaching staff, this pairing was meant to be.
Morris committed to UGA in April 2020 and made his commitment official on National Signing Day.
He'll join fellow stud Amarius Mims in the Dawgs' 2021 class. Both have the potential to become All-Americans quickly.
Georgia football recruiting has gotten better and better over the last few seasons. It's always hard to compete in the SEC, but on paper, this team has a good of a shot as any other in the conference heading into next season.
Micah Morris Highlights
Micah Morris has been widely known in scouting circles for years and first gained attention as a sophomore playing high school football.
The 6-foot-6, 330-pound product certainly beefs up any offensive line, and he looks like a man amongst boys in all of his highlights.
The 247Sports Composite believes Morris is the ninth-best tackle in the class. He possesses great athleticism for someone of his stature and is always fun to watch.
Micah Morris has dreams of reaching the NFL, and those dreams may soon become a reality. It's easy to get lost in the hype, but it truly looks like the offensive tackle has what it takes to shine in the national spotlight.