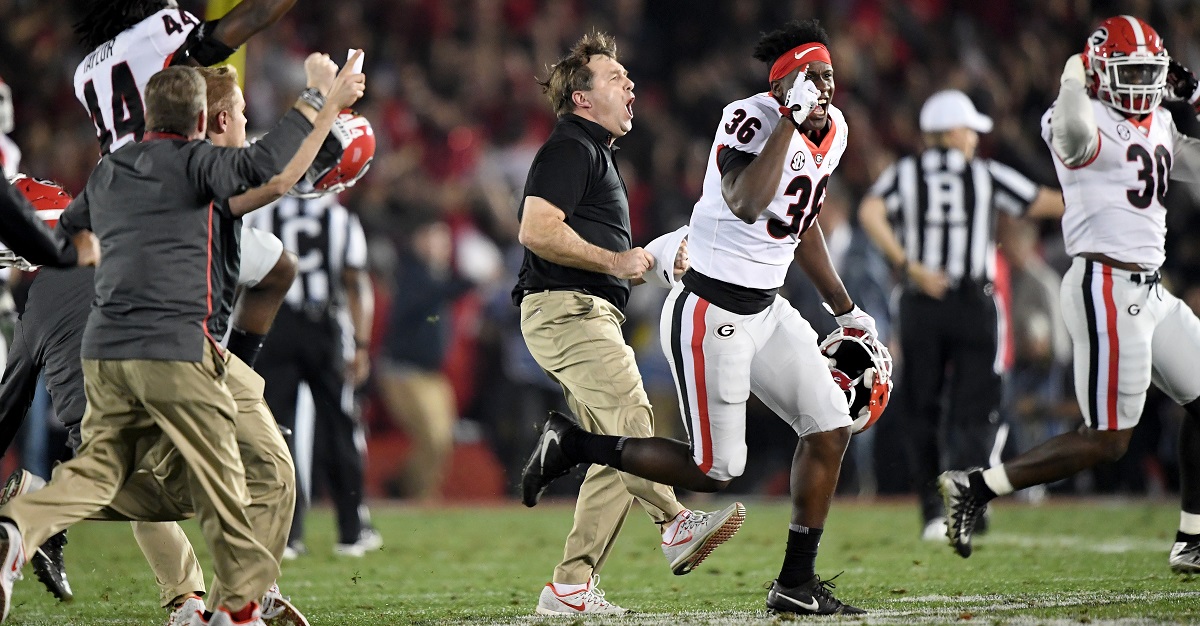 Photo by Kevork Djansezian/Getty Images
With a road win over the Auburn Tigers, the Georgia Bulldogs officially won the SEC East for the third-straight year. It's quite the accomplishment for head coach Kirby Smart, but that's not what Saturday was really about. The victory on The Plains at Jordan-Hare Stadium meant something much simpler.
The Dawgs were tested once again. There's no doubt about it. Auburn head coach Gus Malzahn and his team put up a fight against Georgia, including scoring two touchdowns in the fourth quarter, and Smart acknowledged that during his postgame press conference. He also took a page straight out of Ed Orgeron's book.
Earlier this month, after the LSU Tigers beat the Alabama Crimson Tide, Orgeron gave an explicative-filled postgame speech in the locker room. He caught some heat for it, too, but as it turns out, Smart did the same thing.
Once he left the sideline, Smart told his UGA players "How about them f—in' Dawgs?"
Kirby Smart Postgame Auburn
Whether you love it or hate it, this is what NCAA college football is all about. Winning the Auburn game was huge for the University of Georgia, and you better believe the emotions were high in the locker room. None of it was shown, but Smart was quick to tell everyone his message.
But did he mention anything about the SEC East title?
"I don't think so. I don't even think I said anything about it. I gave credit to Auburn and told our guys to handle it with you the right away. I told them, 'How about them f—in' Dawgs?" That's what I told them. Excuse my language, but I didn't say anything about the SEC East because that wasn't the goal coming in here, you know what I mean? The goal for us was to continue to get better, grow, play in a tough environment, but it really wasn't about the SEC East. That's a helluva accomplishment and I'm proud of our guys, but that's not what it's about."

— Georgia Coach Kirby Smart
Georgia football still has regular season games against Texas A&M at Sanford Stadium in Athens and at Georgia Tech left on the schedule, but you can book them for the SEC Championship Game on December 7 in Atlanta.
With quarterback Jake Fromm, running back D'Andre Swift and an incredible defense, the Bulldogs could be on their way to another College Football Playoff berth. That Georgia-Auburn game to clinch the SEC East will play a big part in getting there, too.
This team is building something special in Athens once again.