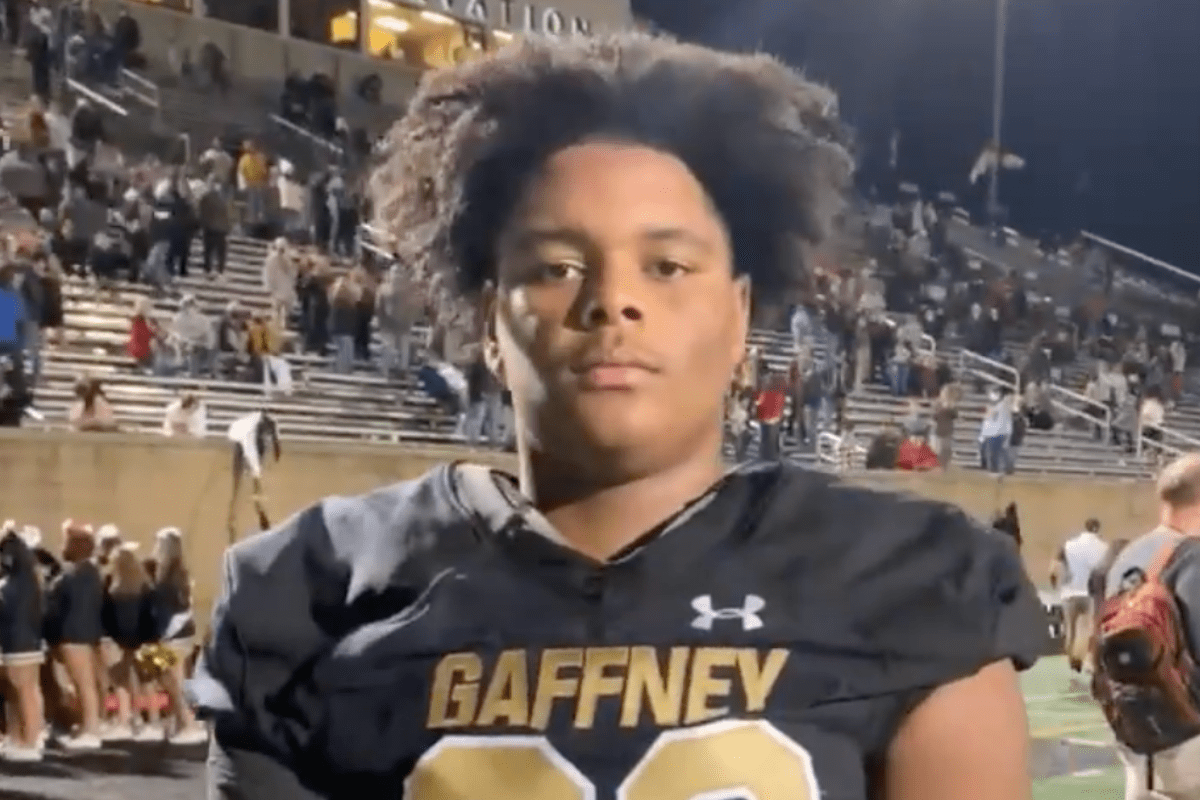 Screenshot from Twitter
Tyrion Ingram-Dawkins is not like most high school football players. Standing at 6-foot-5 and weighing 300 pounds, he has been a dominant defensive tackle for years.
The four-star lineman played for Gaffney High School in South Carolina and was even named the best player in the state.
Naturally, he received interest from some incredible NCAA programs, and after careful deliberation, Ingram-Dawkins committed to the Georgia Bulldogs in 2020.
Tyrion Ingram-Dawkins Commits to University of Georgia
RELATED: Kirby Smart's Newest DB is a 4-Star Stud from Georgia
If Tyrion Ingram-Dawkins didn't choose to play for UGA, he had options elsewhere. Alabama, Arkansas, Coastal Carolina, Florida State, Georgia Tech, Kansas State, LSU, Michigan, North Carolina, Oklahoma, Oregon, Penn State, South Carolina, and Tennessee gave him scholarship offers.
Ingram-Dawkins committed to UGA live on CBS Sports and made the decision official on National Signing Day in December. The Gamecocks had a geographical advantage but couldn't land the stud defensive lineman.
Kirby Smart's recruiting class got even better with this signing, and Ingram-Dawkins will definitely shore up the team's defensive line. The Dawgs, of course, has tasted college football glory before, but haven't won a national championship in decades.
Tyrion Ingram-Dawkins Highlights
The 247Sports Composite lists Ingram-Dawkins as a four-star prospect for a reason. He possesses some great athleticism, especially for a lineman.
Gaffney's defensive coordinator, Randy Birch, helped Ingram-Dawkins make the most out of his skills. The Indians reached the playoffs three years in a row, and even in a year affected by the COVID-19 pandemic, the defensive tackle excelled on the field.
There is a strong chance Ingram-Dawkins gets taken in the NFL Draft down the road, especially if he can continue to thrive at the college level in the SEC.
Ingram-Dawkins is the latest addition to what has been another exceptional Georgia football recruiting class.