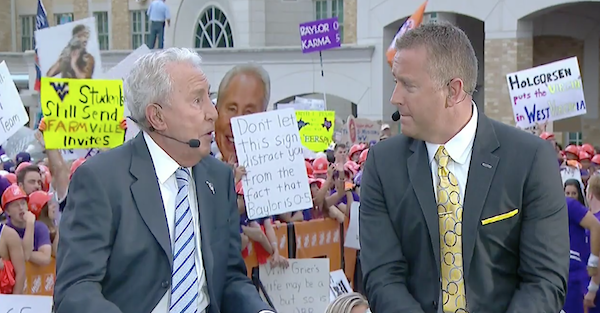 Clippit screenshot
Clippit screenshot
The Ed Orgeron experience is not going well at LSU right now and there aren't a ton of defenders from his early-season performance. After all, it is (very) tough to justify a team like the Tigers dropping a home game to Troy and, even before that, LSU did not look good when compared to the program's lofty standards.
With that as the backdrop, there are plenty of folks seemingly looking to run Orgeron out of town but ESPN's Lee Corso does not see that happening… yet. On Saturday's edition of College GameDay, Corso was asked about Orgeron's status and he indicated the belief that the LSU coach will be "retained for one more year" in Baton Rouge.
Corso makes note of Orgeron's massive buyout and, considering it is $12 million right now, that is a significant impediment. His other point, though, could be equally important in that the LSU faithful likely wants to avoid the embarrassment of hiring the wrong guy and realizing it immediately.
A lot of Orgeron's future could be tied to what happens both on Saturday against Florida and moving forward but, for now, the pressure cooking is heating up and not even Lee Corso would give him a full-fledged endorsement on the national stage.