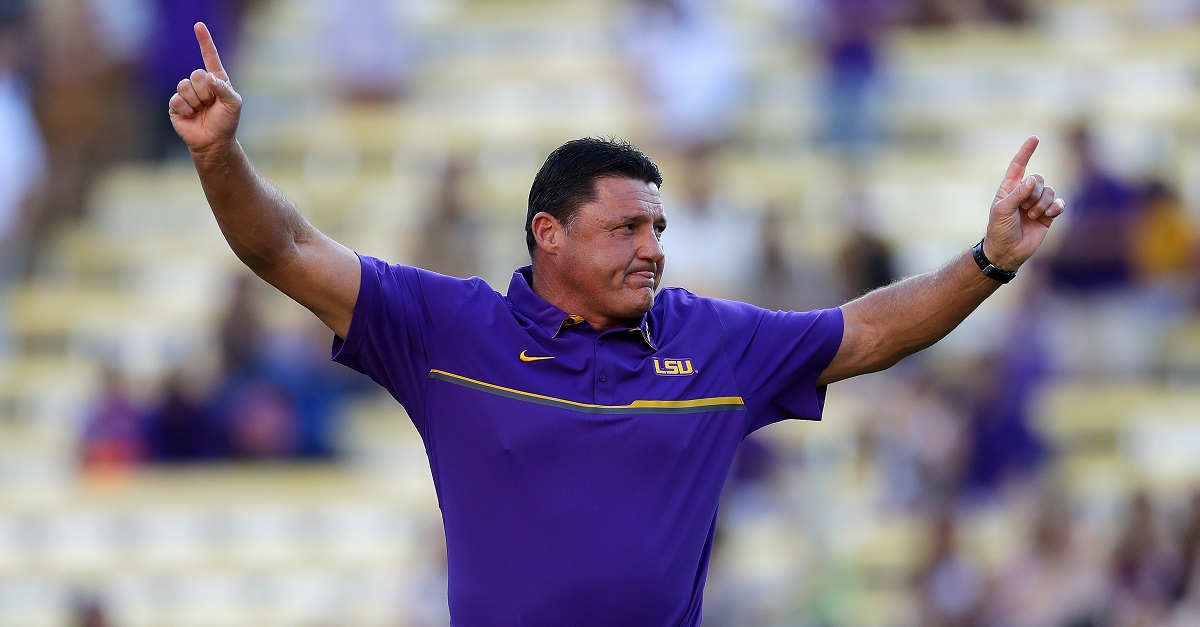 Chris Graythen/Getty Images
BATON ROUGE, LA - OCTOBER 01: New head coach Ed Orgeron of the LSU Tigers stands on the field before playing the Missouri Tigers at Tiger Stadium on October 1, 2016 in Baton Rouge, Louisiana. (Photo by Chris Graythen/Getty Images)
LSU fans are already calling for change at the head coaching spot despite it only being Ed Orgeron's first full year at the helm. After a huge upset loss at home to Troy, there were fans who already started a GoFundMe to buy out his contract. However, that might be the worst option the program has available considering it's a hefty $12 million buyout among other things.
Orgeron still has to recruit his guys, the team is breaking in new coordinators this year and frankly, LSU fans' expectations are just too high. While Orgeron was a coach last year, he wasn't the head man and he needs to given a chance to prove he can do the job properly in the SEC West. The Tigers aren't going to compete for division titles right away, but every good program needs time to build.
Besides, the stigma that would come with getting rid of a guy after a year and paying the second-highest buyout in college football history — Charlie Weis tops the list at almost $19 million — wouldn't attract other coaches to try and turn them around. LSU's best bet is to give Orgeron the opportunity to go through the ups and down of an entire season as head coach and learn from his mistakes.
Not to mention that the $12 million price tag isn't where the buyout stops. LSU is still on the hook to pay Les Miles $125,000 a month for the next 65 months if he doesn't accept another coaching job, which could come out to a grand total of $8,125,000. So not factoring in however much the university would have to pay the next coach, that's already over $20 million that would be getting paid to coaches who aren't at the school any longer.
LSU fans just need to show some patience and understand that team and program building takes much longer than just a season.