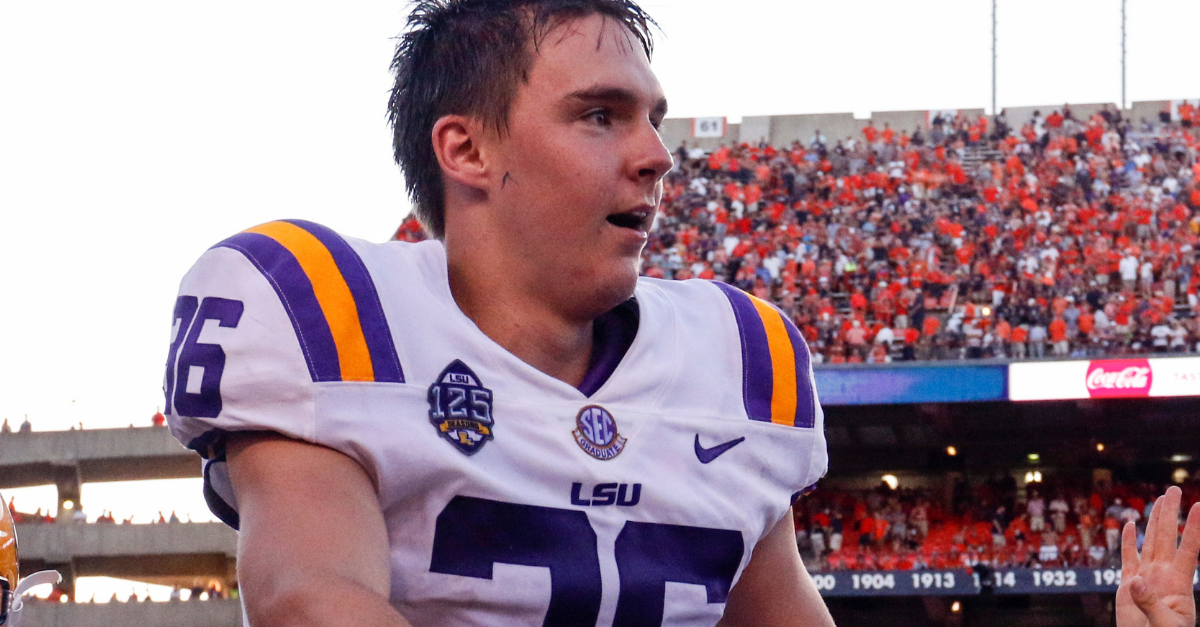 AP Photo/Butch Dill
AP Photo/Butch Dill
The LSU Tigers are on a roll to start 2018. The program already boasts two Top-10 wins against the Miami Hurricanes and Auburn Tigers as they've climbed up to No. 6 in the most recent AP Top 25 poll. There's a lot to celebrate in Baton Rouge, but one player is making the biggest impact.
No, it's not graduate transfer quarterback Joe Burrow, although he could be the deciding factor if LSU makes a College Football Playoff run or not. It's not even senior running back Nick Brossette, who ranks 16th in the country with 331 rushing yards so far this season. The most exciting player on LSU's roster is graduate transfer kicker Cole Tracy, and LSU fans have found a new favorite team in the kicker's former school.
At Assumption College, Cole Tracy set school records for career points (373), points in a season (148), career field goals (68), field goals in a season (27) and twice he converted six field goals in a single game. In 2017, he was given the Fred Mitchell Award as the best kicker in all of the NCAA's FCS, Division II and Division III levels.
In other words, Cole Tracy knows how to kick a football.
After becoming a graduate transfer and heading to Baton Rouge, and Tracy gave LSU a last-second victory over Auburn, alumni and fans in Louisiana have made a ton of donations to Assumption. Even before the game, a few donations came trickling in. Now, it's downright pandemonium in Worcester, Massachusetts.
As of Tuesday evening, Assumption College has received 116 donations totaling more than $6,000, most of which are accompanied by the phrase:
"Thank you for sending us Cole Tracy."
What's even better is that a lot of donations after the LSU-Auburn game have come in the amount of $42.36 — The 42 signifying the distance of Tracy's game-winning field goal, and the 36 being his jersey number.
"We don't know where this is gonna end," Assumption College's Vice President of Institutional Advancement Tim Stanton said. "If this continues and gets to a higher amount, there will probably be some kind of naming opportunity. If it really reached some significant levels — this might sound ludicrous, but like $1 million — we'd name the field after him."
Assumption College competes in the Northeast-10 Conference under the NCAA's Division II level. The Greyhounds' football program has won the division twice in the last three seasons, and they've made the Division II playoffs in three straight years.
So far in 2018, the Assumption Greyhounds are 2-1, average 449.0 yards of offense and score 38.5 points per game.
The school's most prized alum, though, is undoubtedly LSU's new star kicker.