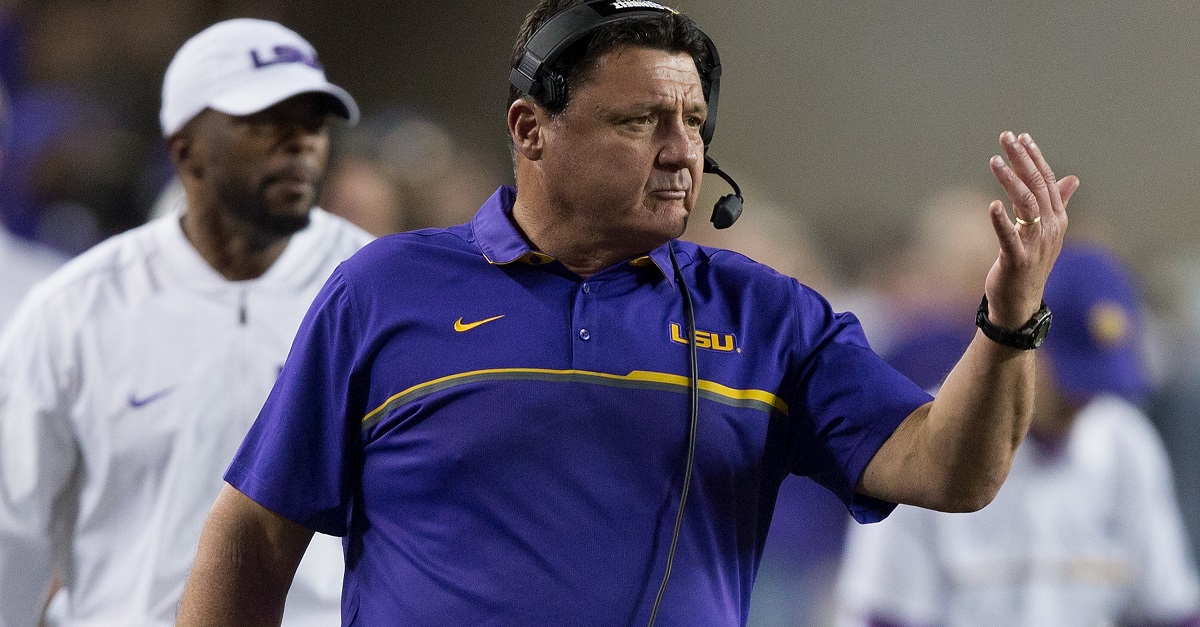 Bob Levey/Getty Images
COLLEGE STATION, TX - NOVEMBER 24: Head coach Ed Orgeron of the LSU Tigers motions from the sidelines against the Texas A&M Aggies at Kyle Field on November 24, 2016 in College Station, Texas. (Photo by Bob Levey/Getty Images)
LSU will play Central Michigan for the first time ever on Sept. 25, 2021.
The Chippewas' athletic department made the announcement on Thursday, and Central Michigan coach John Bonamego said he is excited to take his team to Baton Rouge.
"I spent three seasons in Louisiana with the Saints, and I had the honor of experiencing a game day at Tiger Stadium as a guest of (then LSU coach) Les Miles," Bonamego said. "For our fans, it is a great road trip that I highly recommend. I love that we get a chance to introduce CMU football to that region of the country."
RELATED: Report: LSU adds UTSA to future schedule
Central Michigan defeated Power 5 contender Oklahoma State 30-27 last year after a controversial play to end the game, and the Chippewas are no stranger to playing against major programs across the country.
They will play at Kentucky and at Michigan State in 2018, at Wisconsin and Miami in 2019, at Northwestern and Nebraska in 2019, and at LSU in 2021. They will also return to Stillwater to take on Oklahoma State in 2022.
LSU will play at UCLA in 2021, and they also have a home game scheduled with McNeese State for that year. The Tigers play UTSA in 2020, which will also be the first meeting between those two programs.