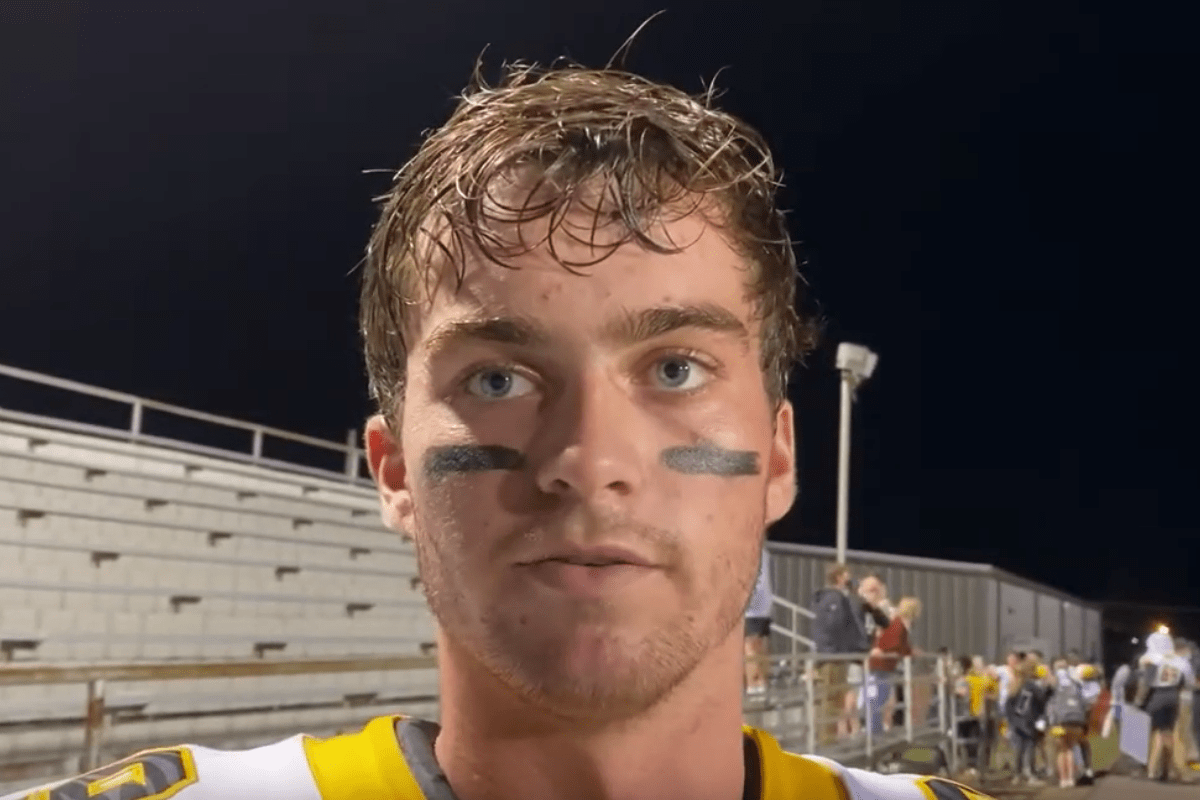 Screenshot from YouTube
The Lane Train is now boarding.
Luke Altmyer checks his itinerary.
First stop: Starkville, Mississippi. Second stop: Oxford. The detour to Tallahassee, Florida has been canceled.
The four-star quarterback in the 2021 recruiting class originally committed to Mike Norvell and the Florida State Seminoles. He had a change of heart, and chose to play college football in his home state.
Luke Altmyer Recruiting
Luke Altmeyer was at the top of Mike Norvell's priority list before he got to Talahassee.
While Norvell was at Memphis, he and new FSU offensive coordinator Kenny Dillingham were recruiting Altmyer to their AAC program. (Norvell even visited Starkville High School via helicopter.)
After Dillingham's lateral move from Auburn to Florida State this offseason, followed by Norvell's arrival, the time was perfect for Altmyer to commit.
The 6-foot-2, 190-pound signal caller was the 13th-rated pro-style quarterback in the 2021 recruiting class, according to the 247Sports Composite rankings. In his three seasons at the helm for the Yellow Jackets, he threw for 7,389 yards and 80 touchdowns against 16 interceptions.
The signal caller held at least a dozen offers from D-I programs, including Georgia Tech, Louisville, LSU, Mississippi State, Missouri, Ole Miss, Oregon, Alabama, Louisiana, LSU, Memphis, Mississippi State, North Carolina State, Southern Miss, and Wake Forest.
Altmyer backed off his pledge to Mike Norvell and the FSU Seminoles in a tweet posted on social media. The four-star recruit from Mississippi was expected to choose Lane Kiffin's Ole Miss Rebels.
"I would like to thank Coach Norvell and his staff for believing in me. They gave me confidence to work harder and become and better player and person. I would like to thank all of Seminole nation for their consistent love and enthusiasm towards me. But due to unforeseen circumstances that have lead to a very difficult recruiting process, I have decided to decommit from Florida State. I know their football program will do great things in their future," he wrote.
Then, that's exactly what happened.
Luke Altmyer Commits to Ole Miss
RELATED:4-Star WR, Son of Ex-NFL Player, Ready to Dominate the SEC
The rumors proved true, and Altmyer followed through on his commitment to Lane Kiffin and the Ole Miss Rebels. He enrolled in January 2021.
Altmyer cited Florida State's recent woes, the difficulties of being recruited during the COVID-19 outbreak, the appeal of staying close to home, and a budding relationship with Kiffin and the coaching staff as the reasons behind his switch to Rivals recruiting analyst Chad Simmons.
Altmyer was one of three Ole Miss QBs to see action in the 2021 Grove Bowl (Mississippi's spring game). As a member of the Blue team, he completed 3 of 9 passes for 18 yards and a touchdown with one interception.
The home-grown kid is expected to succeed starting quarterback Matt Corral as the leader of the offense.
This article was originally published February 3, 2020, but was updated to reflect Altmyer's recruitment.