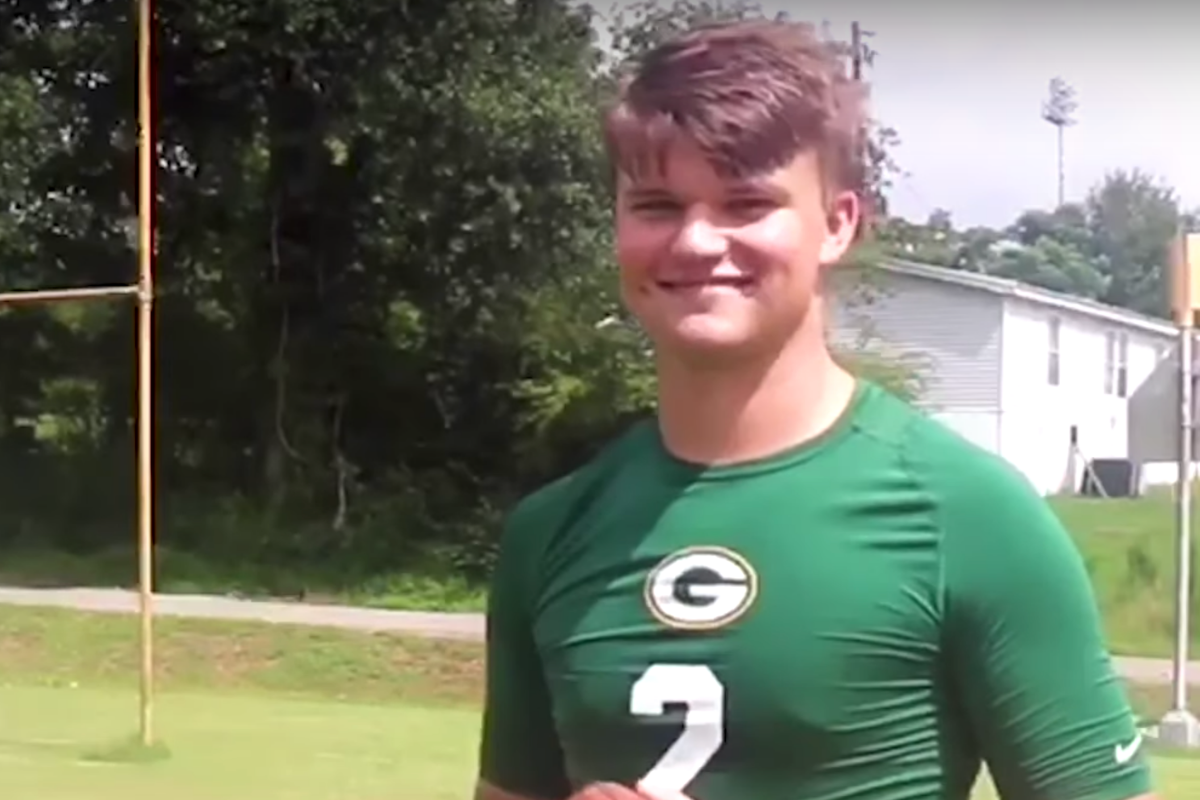 Screenshot from YouTube
One of the best aspects of college football has to be the rivalries between teams and fans. Some matchups date back well over 100 years and are always appointment viewing when the two teams play against each other.
The Iron Bowl is one of those games. The Alabama Crimson Tide and the Auburn Tigers have a deeply-rooted disdain for one another, and that competition can lead to great games.
Now, the two teams will compete for the rights to one of the most heralded quarterbacks in the 2022 recruiting class: Tanner Bailey.
Tanner Bailey Recruiting
RELATED: Meet the 285-Pound QB Taking the Internet By Storm
Bailey is an Alabama native who plays for Gordo's high school football team. He has been the starter for the Green Wave since his freshman year and has been nothing short of exceptional.
In his freshman year, Bailey threw for 16 touchdowns and followed that up with 2,400 yards and 23 TDs as a sophomore. He hasn't won a state championship yet, but Gordo High School has reached the AHSAA 3A playoffs two years in a row.
His junior year was halted due to a collarbone injury, but that has not stopped his NCAA aspirations, especially since he was able to return for the postseason.
Bama and Auburn are the two teams in the best position to sign Bailey, but he has other options as well. Georgia, LSU, Miami, Michigan, Mississippi State, Oregon, South Alabama, Southern Miss, Tennessee, Troy, UAB, and West Virginia have all reached out and made offers, too.
Gordo is just a half-hour drive from Tuscaloosa, and head coach Nick Saban personally made the offer, but Bailey was an Auburn fan growing up. Bailey's father, Lance, was a backup quarterback there in the 1980s. It is easy to see why these two teams are the favorites to land him.
QB Tanner Bailey Highlights 
Pro-style quarterback Tanner Bailey possesses a great arm and has exceptional accuracy.
By his own admission, he believes he needs to work on his deep ball if he is going to remain successful. 247Sports and Rivals.com both believe that he is a four-star recruit, so it is great to see him want to challenge himself and continually get better.
The COVID-19 pandemic has derailed nearly every aspect of life, including the recruiting process. Bailey is unable to make in-person visits to most schools, so his decision is not imminent. He has taken Alabama football by storm already, and it is only a matter of time before he is performing well in college football, too.
Both of these SEC rivals have a great reputation for producing quality NFL talent, so Bailey's name will be one to watch for the next few years. As usual, the Iron Bowl will be fascinating, especially if he is a part of it.