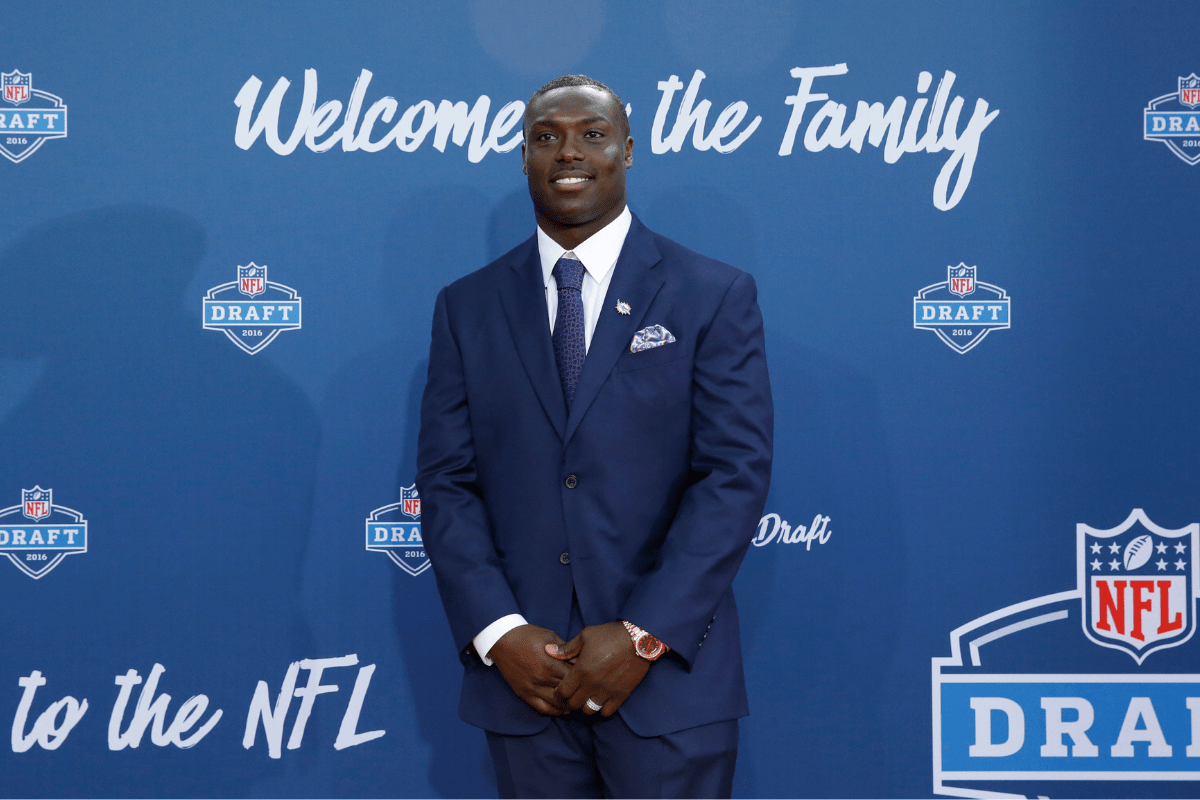 AP Photo/Nam Y. Huh
Speed and power. Thunder and lightning. Shake and Bake.
These attributes can all be used to describe the backfield tandem of Ronnie Brown and Carnell "Cadillac" Williams.
The Auburn running backs dominated the ground game, juked linebackers out of their cleats, and helped lead the Tigers to a 13-0 record in 2004. Their performances in the undefeated season catapulted both to the NFL where they each had respectful careers.
Cadillac Williams is on the sidelines at his alma mater as the running backs coach.
What happened to the other half of Auburn's mighty duo?
Ronnie Brown Football Career
RELATED: What Happened to Carlos Rogers and Where is He Now?
Ronnie Brown attended Cartersville High School in Cartersville, Georgia, and racked up plenty of yards and touchdowns.
During his college football career at Auburn University, Brown studied communications. He redshirted as a freshman and gradually saw his playing time increase.
In 2002, Brown had his best season playing for Tommy Tuberville by accumulating 1,008 yards on the ground and 13 touchdowns. By his upperclassmen seasons, Brown split backfield duties with Williams. His numbers decreased, but he was just as electric.
Brown, Williams, and quarterback Jason Campbell spearheaded the high-powered 2004 Auburn Tigers team that beat Virginia Tech in the Sugar Bowl to go undefeated. He was named Second-team All-SEC in 2002 and 2004.
Highly-touted due to his duel abilities as a wide receiver, Brown was the second-overall pick by the Miami Dolphins in the 2005 NFL Draft. Down in Florida, Brown popularized the Wildcat formation, shared the workload with Ricky Williams, and played under head coach Nick Saban for two seasons. He earned a Pro Bowl Selection in 2008.
In a 10-year pro career with the Dolphins, Philadelphia Eagles, San Diego Chargers, and Houston Texans, the first round draft pick rushed for 5,391 yards, scored 38 touchdowns, and made the playoffs twice. He retired in 2014.
Ronnie Brown Now
The former Auburn football player went from managing the backfield to managing people's finances. According to his LinkedIn profile, Brown has been a financial advisor for Wells Fargo Advisors in Atlanta since 2019.
Previously, he was a Senior Wealth Strategy Associate at UBS where his main clients were athletes. He is also a motivational speaker.
Brown was inducted into the Alabama Sports Hall of Fame in 2020.
His playing career is long over but the New York Jets, Cincinnati Bengals, New England Patriots, Oakland Raiders, Tampa Bay Buccaneers, and Tennessee Titans still have nightmares about Brown lining up in the Wildcat.