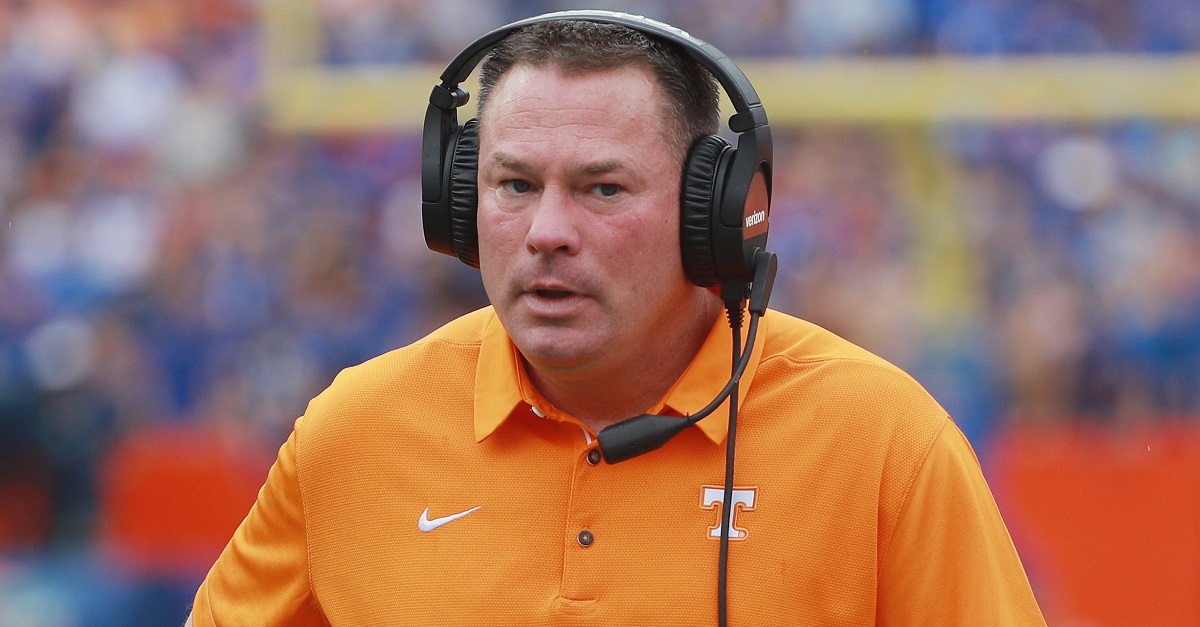 Scott Halleran/Getty Images
GAINESVILLE, FL - SEPTEMBER 16: Head Coach Butch Jones of the Tennessee Volunteers is seen on the sidelines during the second half of their game against the Florida Gators at Ben Hill Griffin Stadium on September 16, 2017 in Gainesville, Florida. (Photo by Scott Halleran/Getty Images)
Former University of Tennessee and current New Orleans Saints running back Alvin Kamara was named NFL Rookie of the Year on Friday, according to Sports Illustrated's Bruce Feldman.
Kamara was also voted by fans as the Pepsi Rookie of the Year hours earlier.
The Pro Bowler recorded 1,901 total yards, including 728 rushing (6.1 per attempt), 826 receiving (81 catches) and 347 on kick returns (11 attempts), as well as 14 total touchdowns. during the regular season.
Kamara also helped lead the Saints — who finished third in the division during the previous season — to a first-place finish in the NFC South in 2017.
Not bad for a player drafted in the third-round after spending the majority of his college career at Tennessee as a No. 2 back.
Last month, Kamara reflected on his time with the Vols and his lack of playing time as ?F?ed up? in a feature story by Sports Illustrated.
Clearly, the Saints figured out a way to utilize Kamara?s abilities much better than Butch Jones and his staff at Tennessee ever could.
FanBuzz's Take
What else is there left to say?
I know, I know. We've all mentioned it every single time Kamara did something spectacular during his rookie season, which literally seemed like a weekly occurrence. But his immediate success at the professional level is further proof of Jones' ineptitude as Tennessee's head coach.
And sure, both Kamara and the Vols seem to have moved on to bigger and better things. But the long, drawn-out tenure of the former coach was so bad that it will leave lingering effects and be one that fans reflect on with angst.
It's bewildering that Jones couldn't realize that he had an elite NFL caliber back on his roster and instead went with Jalen Hurd who — mind you — was good enough to nearly break the school rushing record. But he was clearly inferior to Kamara, averaging 2.31 less yards per attempt while receiving the majority of touches out of the backfield.
Imagine what could have been for Tennessee had it just made Kamara. Surely Jones would have found a way to mess it up, as he did with a surplus of talent for the majority of his tenure, but it's still aggravating to think of "what might have been," especially given the running back's quick transition to the NFL.