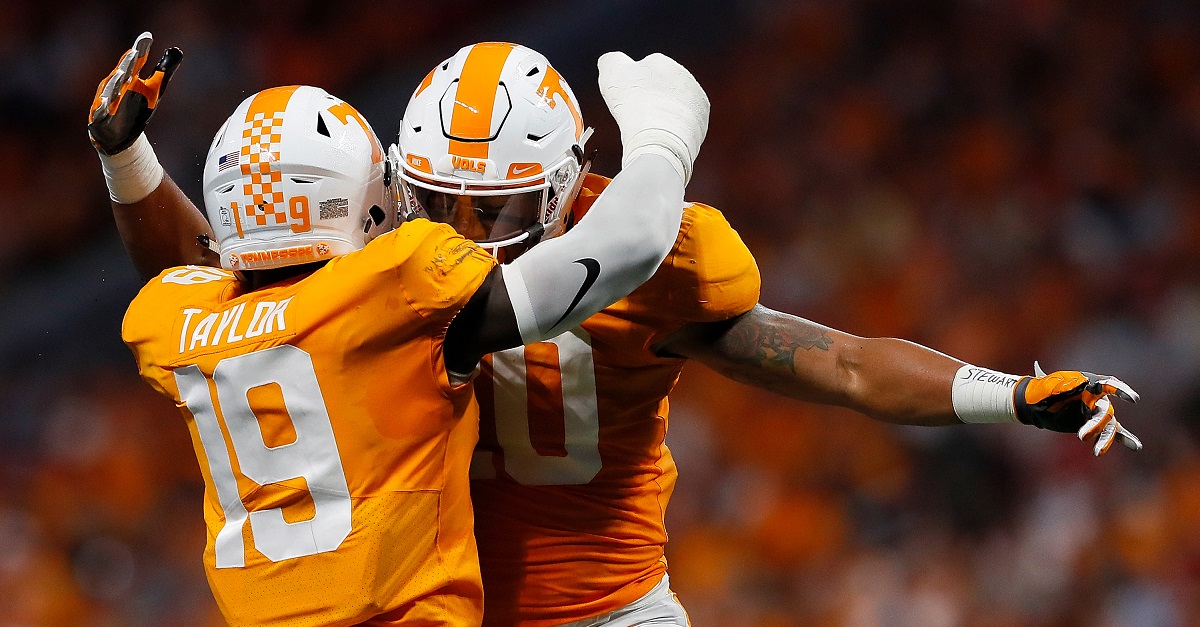 Kevin C. Cox/Getty Images
ATLANTA, GA - SEPTEMBER 04: Darrell Taylor #19 of the Tennessee Volunteers reacts with Cortez McDowell #20 after sacking TaQuon Marshall #16 of the Georgia Tech Yellow Jackets at Mercedes-Benz Stadium on September 4, 2017 in Atlanta, Georgia. (Photo by Kevin C. Cox/Getty Images)
Tennessee has suspended defensive end Darrell Taylor indefinitely according to a report from ESPN.
Taylor, who has started in each of the Vols' first five games, was involved in a fight with teammate Trey Smith, which resulted in the offensive linemen needing stitches.
The incident was originally reported by Twitter user ?Illated94? last Thursday and later reported by WNML?s Jimmy Hyams through sources.
According to Hyams' source, Smith's helmet reportedly came off while pancaking Taylor during a drill. The two wrestled, which led to Taylor attempting to kick Smith and hit him in the face.
Taylor reportedly apologized to Smith, who won't miss any games, according to Hyams. Taylor was already scheduled to serve a previous suspension, which stemmed from an ejection for a personal foul during last Saturday's game against Georgia.
The defensive lineman was scheduled to miss the first half of next week's game against South Carolina.
The news comes one week after head coach Butch Jones denied defensive lineman Shy Tuttle's orbital bone injury occurred during a fight with a teammate, and said it was caused by falling on a helmet.