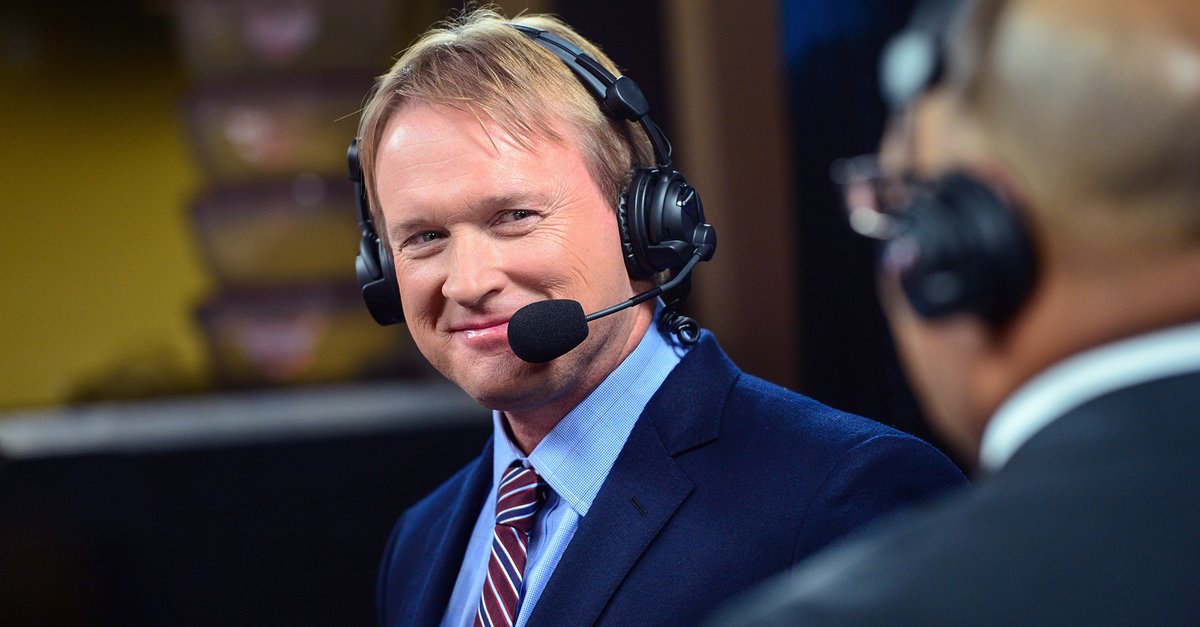 @RockyTopInsider/Twitter
@RockyTopInsider/Twitter
Tennessee fans, take this latest GRUMOR for what it's worth.
FOX Sports Knoxville's Jon Reed joined The Drive on Wednesday afternoon to discuss a rumor involving Jon Gruden's son Michael, a UT student, coming home to Tampa for a "family meeting," this upcoming weekend.
The rumor suggests that Gruden wants to discuss what taking the head coaching position at Tennessee would mean for his family, especially his son and his wife, Cindy, who is a Tennessee alum.
Obviously, the family's strong ties to UT have linked the former Super Bowl winning coach to the expected upcoming vacancy, but his performance on the job would likely have an impact on that relationship.
As we've seen with Butch Jones this season, bad coaching can create hostility with the passionate SEC fan base. That's why Gruden would likely want to see how his son feels about having his father face potential scrutiny while he attends the university.
It's worth noting that this was a fun segment and could be one of many Grumors that gets Tennessee fans excited before it ever actually plays out. However, Reed and company have been accurate in the past, so it's at least worth taking into consideration.
Last month, The Read Optional's Oliver Connolly reported that Tennessee offered Gruden "over $10 million a year" to take over next season. Along with his wife and son, the coach also has personal ties to UT as he began his career as a graduate assistant with the Vols under Johnny Majors in 1986-87.
Gruden has also referred to the head coaching position at Tennessee as a "dream job" on numerous occasions and expressed interest in coaching again, although he's also downplayed the notion of coaching at the college level.
It's also worth noting that Jones has yet to be fired, although at this point it seems inevitable.
FanBuzz's Take
First and foremost, let me take the Stephen A. Smith name drop route here. Jon Reed is a personal friend of mine, so I wouldn't post this rumor unless I had faith in him and his sources. Again, this is just a rumor or — as it has been to referred to with Gruden — a "Grumor," so let's not kill the messenger if it proves to be untrue.
However, it seems believable that Gruden would discuss the position with his family given that the biggest reason he's linked to a college program is his family's strong ties to the university.
Imagine being Michael Gruden in this scenario: either your dad is the biggest hero or most hated man on campus depending on his performance. You think Butch Jones' transition from "savior" to "pariah" was bad? Imagine if Tennessee actually gets Gruden after years of speculation and dreaming.
The Grudens will undoubtedly face pressure to live up to lofty expectations and it could have an effect on their relationship with the university.
But man, would it be worth it if Chucky does pan out to be the coach we've longed for after all these years. If Gruden is considering this deal, it would definitely need to be discussed among his family.
However, I think Gruden having a son enrolled at the university ultimately plays into Tennessee's favor. The family would be closer together in Knoxville. Plus, that would likely also include Deuce Gruden, Jon's son who is currently working as an assistant for his brother, Jay, with the Washington Redskins, who would be considered for the strength and conditioning coaching job under his father.
The Grudens would be the most popular family on Rocky Top if the Grumors have validity. Now I'm hyped about Tennessee football for the first time in weeks. Don't remind me that Butch is still employed. I'm ready for next season…So hopefully all of this speculation doesn't actually result in another AAC/MAC coach.
Man, college football is the best.