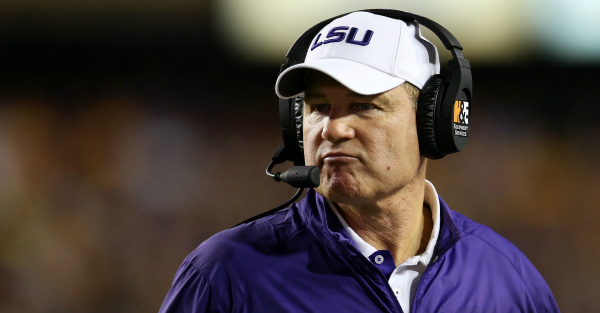 Chris Graythen/Getty Images
at Tiger Stadium on November 28, 2015 in Baton Rouge, Louisiana.
Well this one might be up there for weirdest college football story of the year.
Tennessee is still looking for a new head coach in their much maligned search for a new guy, as the Vols have gone through numerous candidates at this point. Now, WWE superstar and Knox County mayoral candidate Glenn "Kane" Jacobs is saying that former LSU coach Les Miles has interest in the open Tennessee position.
Local radio host Will West appeared to confirm that Miles was indeed interested.
Miles, 64, would be an interesting candidate for Tennessee at this point, especially as the school seems to cycle through younger coaches. Miles could help bring some needed stability to the Vols amid the chaos affecting the program, as well as hopefully step aside for a fully prepared "head coach in-waiting" after a few years.
Miles has a 113-34 career record as a head coach, having coached at both Oklahoma State and LSU. Miles? LSU team won the BCS national championship in 2007, and lost in the BCS national championship game in 2011. Miles never won less than eight games in a full season while at LSU, and his teams won over 10 games in seven of the 12 years he was in Baton Rouge.