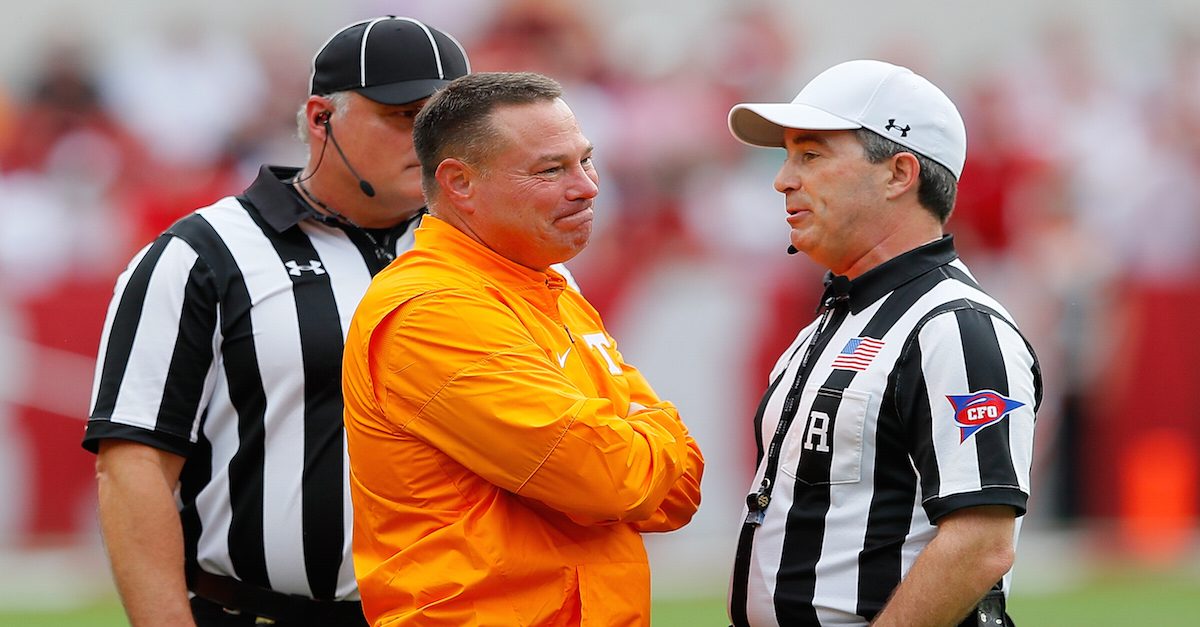 Kevin C. Cox/Getty Images
TUSCALOOSA, AL - OCTOBER 21: Head coach Butch Jones of the Tennessee Volunteers reacts to the officials during the game against the Alabama Crimson Tide at Bryant-Denny Stadium on October 21, 2017 in Tuscaloosa, Alabama. (Photo by Kevin C. Cox/Getty Images)
Tennessee football has been a travesty in 2017. Not only did the Vols go 4-8 and fire now former head coach Butch Jones, but their coaching coach after the big move has been a debacle.
The school reportedly was set to hire Greg Schiano away from Ohio State but succumbed to pressure from the fanbase and backed out of that reported deal. Meanwhile, top coaching candidates such as Scott Frost (Nebraska), Dan Mullen (Florida), Chip Kelly (UCLA) and even Jimbo Fisher (Texas A&M) have landed new gigs.
Tennessee fired Jones on November 12th and still hasn't found his replacement. The Vols' coaching search and debacle has drawn criticism from all over the world of sports, and it has even reached into politics, but it has been so bad that even NCAA President Mark Emmert has commented on the situation.
This, according to Jason Belzer:
This is a terrible look for Tennessee. Not only is most of the sports world focused in on what appears to be a botched coaching search, but the president of the NCAA — who normally doesn't focus in on one team unless they are winning a championship or under investigation — was compelled to discuss how poorly things are being run on Rocky Top.
Sure, he's more plugged in than most, but Emmert is still an "outsider" to the program who can clearly see that Tennessee just isn't on the same page internally. That's bad enough for the president of the NCAA to think, but thinking it enough to say it out loud, that's not good news for the Volunteers.
Of course, Tennessee could right a lot of wrongs by hiring someone like Tee Martin, but at this point does anybody trust the Volunteers' brass to make the right coaching decision?
Clearly, Emmert doesn't think highly of them, so why should the rest of us?