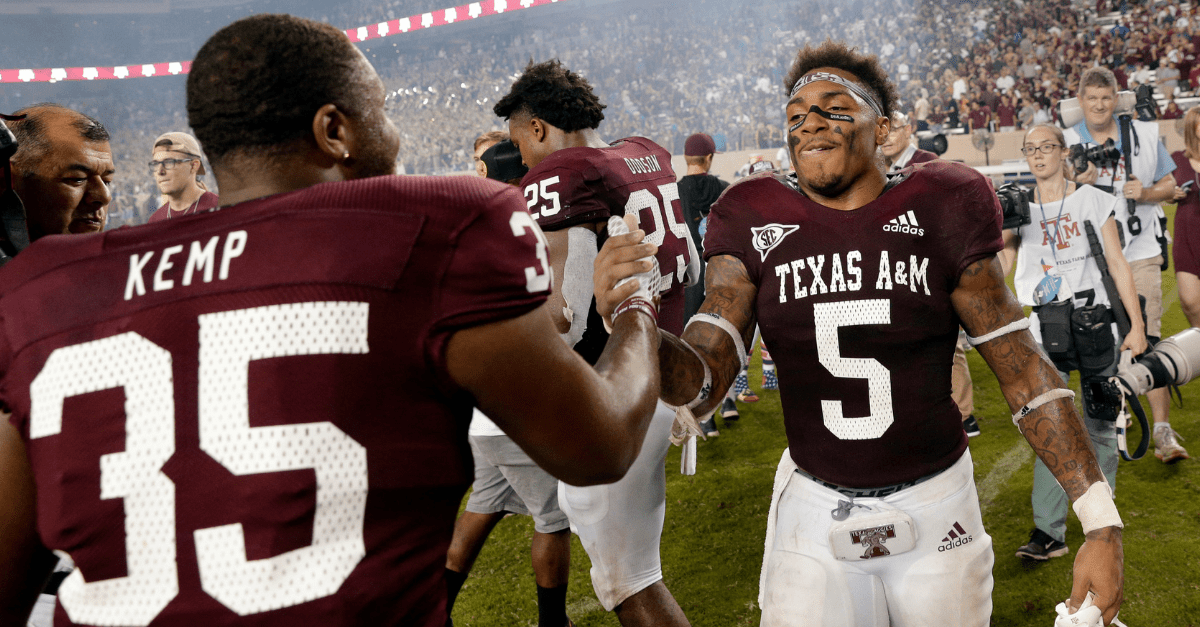 AP Photo/Michael Wyke
AP Photo/Michael Wyke
When Jimbo Fisher moved to College Station from Tallahassee, Florida, he brought with him a culture of elite talent and high-level football that is changing the Texas A&M Aggies program. Despite early season losses to Clemson and Alabama, the Aggies are proving that the program is going to be a College Football Playoff contender very soon.
After losing to Auburn last season 42-27 at home at Kyle Field, Texas A&M will show the country that their program is back on track by beating the Tigers this season when the two SEC programs square off on Saturday, November 3 in Jordan-Hare Stadium, and there are three big reasons why.
1. The Aggie Defense is Elite
In their previous meeting, Auburn had an offensive explosion. Auburn quarterback Jarrett Stidham threw for 268 yards and 3 touchdowns, and the team ran for nearly 230 yards, and scored 2 touchdowns. This season, Texas A&M is ranked fourth against the run, and Auburn running backs JaTarvious Whitlow and Kam Martin won't be able to get going the Aggies defensive line. The Aggie defense has also tightened up since their loss to Alabama when they allowed 524 total yards of offense.
2. Kellen Mond is Healthy
The biggest reason the Aggies will win is because of their sophomore quarterback Kellen Mond. When Auburn lost to Mississippi State 23-9 back in Week Four, Bulldog quarterback Nick Fitzgerald did not have a great day passing, but he ran for 195 yards on 28 carries and scored 2 touchdowns. Texas A&M's read option, and Mond's ability to run the football and throw on the run, will be a problem for Auburn's defense. Mond will have his opportunities to exploit this defense on third and long situations, especially when the Auburn defense is spread out.
Most important, Mond is actually going to be healthy this year. Prior to last season's matchup, he was injured early in the fourth quarter of the team's 35-14 loss to Mississippi State the previous week. Backup Aggie quarterback Nick Starkel finished that game and had some success throwing the ball.
3. Auburn Plays Georgia the Following Week
Although Auburn is basically out of contention to make the College Football Playoff this season, they definitely have the game against the Georgia Bulldogs circled on their calendar. They are looking forward to spoiling someone's season, and they will be looking ahead a little thinking about the highly-ranked Bulldogs, and that will give the Aggies an additional edge. If this game gets away from them early, they will surely check out mentally to be ready for Georgia.
The Aggies will be the underdogs, and all the pressure will be on Auburn to win at home. This will be another signature win this season against a nationally recognized team conference rival.