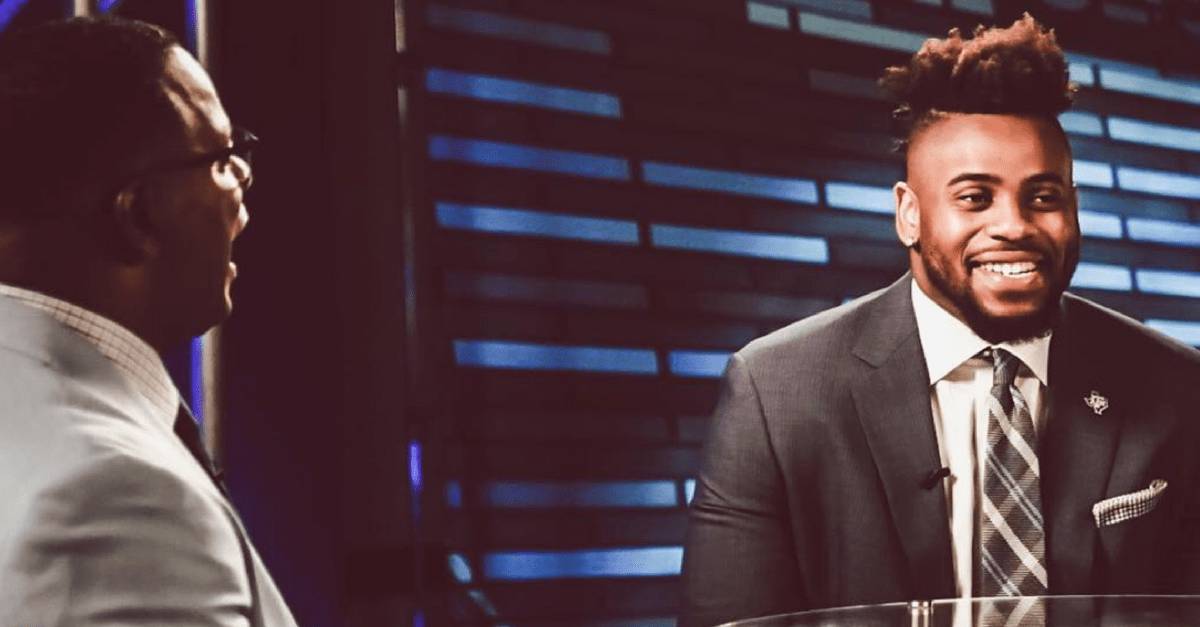 Instagram: @aggiefootball
Jimbo Fisher kicked off his first SEC Media Days with the word "howdy," and the new Texas A&M head football coach showed he can still talk 100 miles per hour. He also had some great things to say about his players heading into the 2018 season.
"Our attitude of our players has been tremendous. I've been very proud of that," Fisher said at the podium. "They've come in, there's a lot of change, we do things differently. Not that the other side was right, just a philosophical difference. The way they've handled it has been tremendous."
All seems to be going well in the mind of the coach who left Florida State and signed a 10-year, $75 million contract with Texas A&M this offseason.
https://www.instagram.com/p/BlTPLxAgS44/?hl=en&taken-by=aggiefootball
But how do his returning players feel about Fisher after he replaced Kevin Sumlin?
Junior running back Trayveon Williams, senior defensive lineman Kingsley Keke, and junior offensive lineman Erik McCoy broke it down during first day of the annual event at the College Football Hall of Fame in Atlanta.
RB Trayveon Williams 
"Coach Fisher has brought a sense of history. He has been to the National Championship, and he knows what it takes to win. He has brought that to this university, and he brought great coaching. He brought in the right guys to get us ready to win a national championship."
"That was one of the first reasons I was excited to have him named as my head coach. He puts running back in great situations, and I'm excited about that. Coach Fisher is always saying that I need to run strong. That's very important as a running back. I'm very excited to have him as my coach."
DL Kingsley Keke
"He's a real tough guy. He's all about business. He demands excellence, toughness, grit, all of those good things, both physically and mentally."
"Everyone on the team is excited about him being here. Jimbo Fisher has a proven track record of winning national championships. He's a great coach. We all love what he's done so far."
OL Erik McCoy
"His four key words are toughness, effort, discipline and pride, and he emphasizes that in everything we do. Whether that is strength in the weight room, the strength and conditioning, practice, the field and he really puts emphasis on it."
"I'm going to say that my impressions of him haven't really changed. I was excited when he got hired, and I'm still excited he is here. We are getting ready for the season. He is an intense guy and I love that."