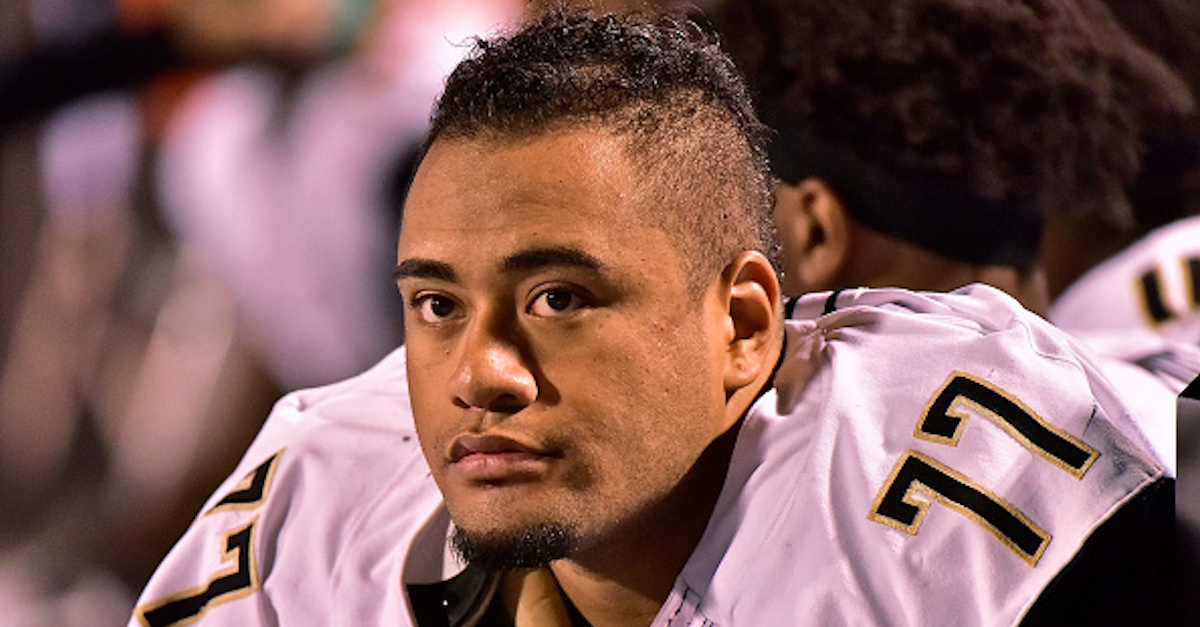 Frederick Breedon/Getty Images
MURFREESBORO, TENNESSEE - SEPTEMBER 02: Nifae Lealao #77 of the Vanderbilt Commodores watches from the sideline during a 28-6 Vanderbilt victory over the Middle Tennessee State University Blue Raiders at Floyd Stadium on September 2, 2017 in Murfreesboro, Tennessee. (Photo by Frederick Breedon/Getty Images)
Vanderbilt defensive lineman Nifae Lealao likely won't remember last weekend's stomping at the hands of the Alabama Crimson Tide all that fondly.
Laelao, as you'll remember, talked some major smack before the game, but neither he nor his team could deliver on that trash talk.
Vanderbilt was expected to be competitive, at the very least, but the Commodores couldn't even score a point on the Crimson Tide. To make things worse, their heavily praised defense gave up nearly 60 points.
Vandy lost, 59-0, this after Laelao told the Alabama that it was next on the Vandy "hit list". Here's what he said after Vanderbilt's win over No. 18 Kansas State:
"We expected to get this. When you come to our house we show you how to play some SEC ball. It don't matter where you're from, you're gonna know what ball we play. We're going into next week ranked, that's fine. Alabama, you're next."
Laelao was right in saying that Alabama was next, but the Commodores, unfortunately, didn't show up to play the Tide.
And to make matters worse, the big defensive lineman was caught in an embarrassing moment during the game. Cole Cubelic of the SEC Network passed on film of Laelao absolutely being demolished by a double-team block.
Alabama's left guard chipped over on Laelao and sent him flying to the ground. Matt Zenitz of AL.com pointed out that the left guard J.C. Hassenauer, was actually the backup left guard, making the situation even worse for Laelao.
He talked a big talk before the game but he couldn't back it up, and it literally doesn't get any worse than that for an athlete.