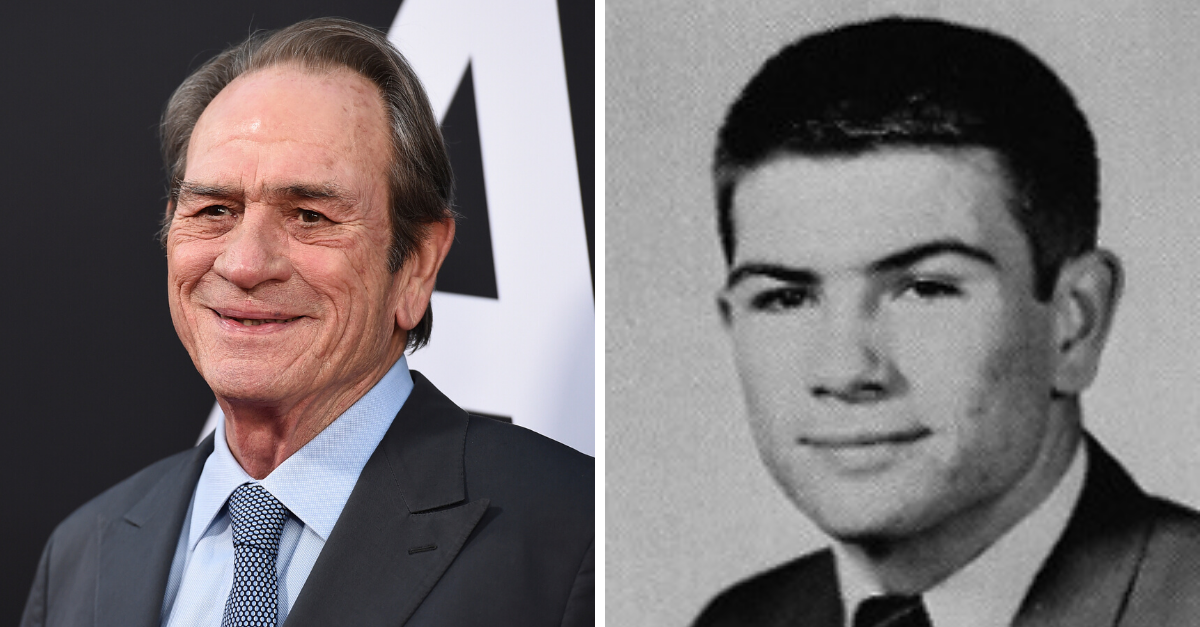 Jordan Strauss/Invision/AP (left), Wikimedia Commons (right)
Tommy Lee Jones is as Texas as it gets. Smart, uncompromising and rugged, the 73-year-old San Saba, Texas native owns a 3,000-acre cattle ranch in the Lone Star State. He's won an Academy Award, Golden Globe Award and Emmy Award during his illustrious career and created iconic roles in blockbuster films from Coal Miner's Daughter (1980) to No Country for Old Men (2007). However, perhaps no film meant more to Jones than The Three Burials of Melquiades Estrada (2005), which was his directorial debut.
"I decided it was time to make a movie about a part of the world that many people haven?t experienced or don?t understand," Jones told Texas Monthly about the film, which told the story of a Mexican-American boy who was shot and killed in West Texas by a U.S. Marine. "I wanted to make a movie about my home country, my home people."
Like I said, as Texan as it gets.
Young Tommy Lee Jones
But Jones wasn't always living a quiet life in the Texas Hill Country. As a standout academic growing up, Jones attended St. Mark's School of Texas in Dallas, an elite, all-boys prep academy. He played high school football and soccer there, as well as starred in numerous theater productions.
Upon graduation, the eighth-generation Texan headed north to Cambridge, Massachusetts where Harvard University awaited.
Tommy Lee Jones at Harvard
RELATED: The 22 Most Iconic Movies Filmed in Texas
"There was a guy hunkering down outside the window with this piece of grass in his mouth," Joseph C. McGrath once told The Harvard Crimson. "And he had this great big-ass knife, and he was throwing it into a circle in the tree right there in front of Phillips Brooks House. And that was Tommy Lee Jones."
The future star brought an intensity and Southern style few at Harvard had seen. Jones is remembered by his classmates for a schedule that included a full undergraduate course load ? he graduated cum laude in English and American Literature and Language in 1969 ? regularly performed at the Loeb Drama Center, and played football for the Harvard Crimson.
Jones, who was roommates with former U.S. Vice President Al Gore, played offensive guard for Harvard. Former teammate Theodore E. Skowronski remembered Jones as having the "quickest feet" of anyone on the team, and despite being considerably smaller than most offensive lineman, "would go longer in a drill than most players."
Jones was part the most famous football game in Ivy League history, as well. "Harvard Beats Yale 29-29" headlined The Harvard Crimson newspaper the following day, recognizing how Harvard overcame a 22-0 deficit to tie the nationally-ranked and undefeated Yale Bulldogs football team. The game marked a pivotal moment in an iconic college football rivalry.
Tommy Lee Jones played an "important" role that day, and in 2008, even presented Kevin G. Rafferty II's documentary on the famous college football game.
Harvard Beats Yale 29-29
Jones made his film debut in 1970 with Love Story, which launched into his Hollywood career. He's starred in a miniseries called Lonesome Dove (1990), as "Clay Shaw" in JFK (1991), "Two-Face" in Batman Forever (1995), "Agent K" in the Men in Black series, "Hank Deerfield" in In the Valley of Elah (2007), "Thaddeus Stevens" in Lincoln (2012), and ? my personal favorite ? voiced "Chip Hazard" in Small Soldiers.
He won the Oscar for Best Supporting Actor for his role as Deputy U.S. Marshal Samuel Gerard in The Fugitive (1993).
An iconic life for an iconic man. His roots in Texas haven't changed Tommy Lee Jones at his core, and his legacy everywhere he's gone remains one of respect and honor.